Hong Kong Plastic Pellet Patrol
Hong Kong Plastic Pellet Patrol
Six containers, with over six billion plastic pellets packed in 6,000 sacks fell off a cargo ship during Typhoon Vicente on July 23, 2012. Plastic pellets (polypropylene) are inert and non-toxic, but they can adsorb organic pollutants including DDT and PCBs from the sea. Because fish sometimes mistake the pellets for fish eggs, pellets may cause slow starvation due to gastrointestinal obstruction, and pollutants adsorbed by pellets can accumulate in the food chain, posing a potential long term threat to the environment.
OPCFHK joined hands with government departments and NGOs to initiate the first meeting to develop a crisis management plan to deal with this pellet spillage. In the meeting, Hong Kong was divided into 6 areas of responsibility for effective resource allocation.

| | Coordinating Areas |
| --- | --- |
| | Cheung Chau & Lamma Island |
| | Eastern Lantau Island |
| | Southern Lantau Island |
| | Western Lantau Island |
| | Po Toi, Waglan Island, Beaufort Island, Sung Kong |
| | Southern Hong Kong Island |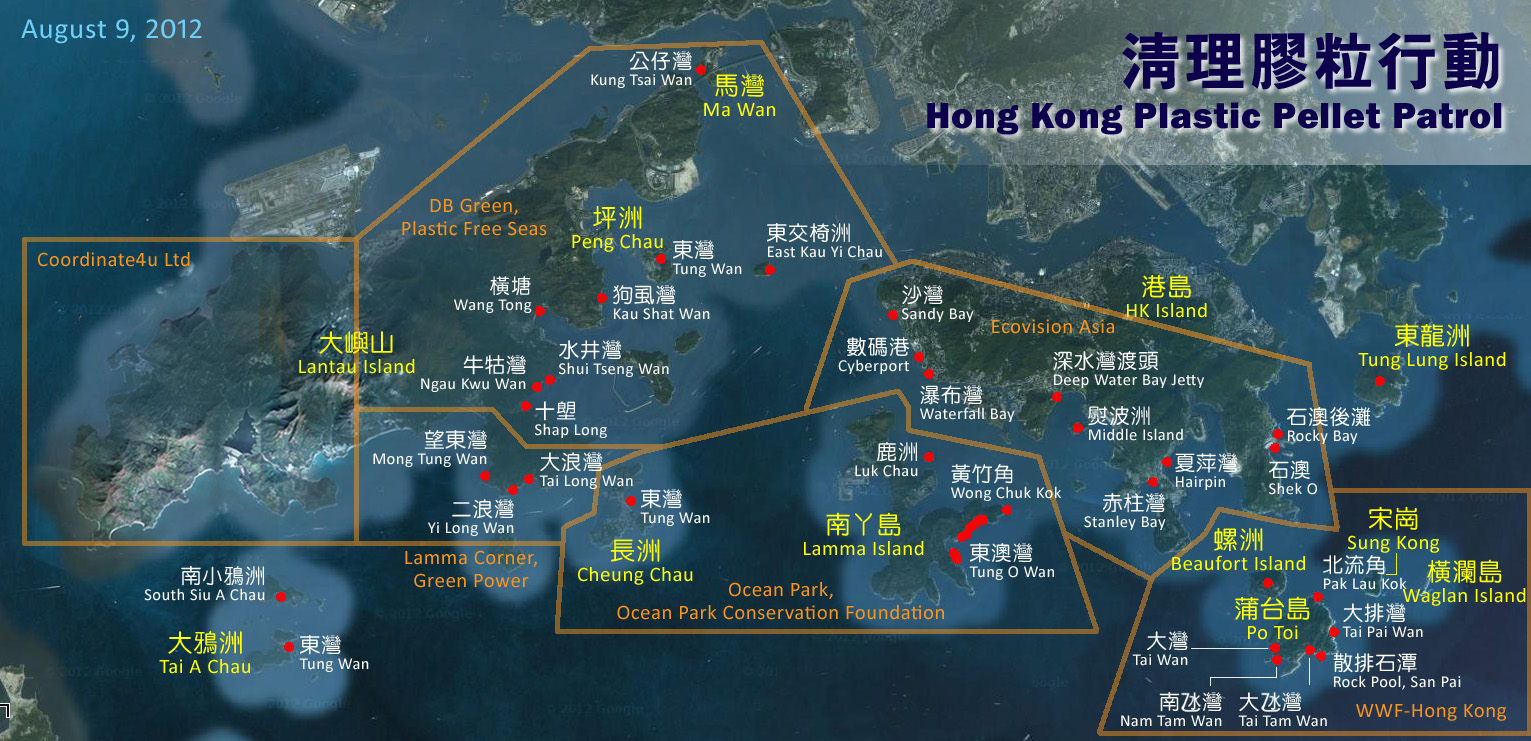 OPCFHK and Ocean Park jointly organized 10 cleanups during which about 500 volunteers removed pellets and rubbish from Tung O on Lamma Island, Tung Wan and Kwun Yum Wan on Cheung Chau and in the 'backyard' of Ocean Park. We have been overwhelmed by the enthusiasm and support from our volunteers, but we have to apologize that we were not able to accommodate all of the registered volunteers to join our cleanups due to limited resources.
On September 3, 2012, information from the Government indicated that more than half of the lost pellets had been recovered. Although the tireless efforts have paid off over the past few weeks, pellets are still being found on our beaches. We still need your support to gather information from those links at the bottom of the page and organize your own groups to clean our beaches and update us afterwards. Your continual effort is crucial in ensuring we remove all the pellets from the environment. Working together on this, we will surely make a difference!

Lamma Island
| | |
| --- | --- |
| | |
| Pellets found on the tide lines at Shek Pai Wan, Tung O. | Snowy scene on the shore of Shek Pai Wan. Generators and vacuum cleaners deployed by SINOPEC really helped in the clean-up work. |
| | |
| Over a thousand volunteers joined us. We shared the same conviction to fight against plastic pellets. | Volunteers formed a human conveyor to move the collected pellets and rubbish to the FEHD collection point. |
| | |
| In the morning, pellets and rubbish were everywhere on the beach. | The beach looks better after tremendous efforts of the volunteers. |
Cheung Chau
| | |
| --- | --- |
| | |
| We helped co-ordinate the efforts in Cheung Chau. Tung Wan and Kwun Yam Wan of Cheung Chau are highly accessible with abundant facilities, which are especially good for families with children. | Pellets are mixed with sand. It requires a lot of effort to separate the pellets from the sand. |
| | |
| Volunteers were very determined in removing the pellets, using different methods even though the sun was very strong. | After all the hard work, volunteers would be more concerned when using any plastic product in their daily life and better adopt the 3R living style, Reduce, Reuse & Recycle. |
'Backyard' of Ocean Park
Besides Lamma Island and Cheung Chau, OPCFHK also discovered a lot of pellets had landed on the beach near Ocean Park. We only had an hour to remove the pellets at low tide before sunset.

About 50 staff from OPCFHK and Ocean Park hit the beach after a long day's work to clean up our own 'backyard'.

Together, we collected most of the pellets and rubbish before the sunset!
However, the tides will still bring in more and more pellets. We need your continued support to join us fight against this together!

| | |
| --- | --- |
| Video clip: "Act Now! Protect our marine environment!" | |
Links: