Promoting Marine Conservation at Citywalk Shopping Mall
Promoting Marine Conservation at Citywalk Shopping Mall
OPCFHK collaborated with Citywalk this summer from 7 July to 28 August on the "Never Give Up Summer Programme on Marine Conservation" to promote marine conservation. We hope to share with the public about our precious oceans while we have a fun and meaningful summer.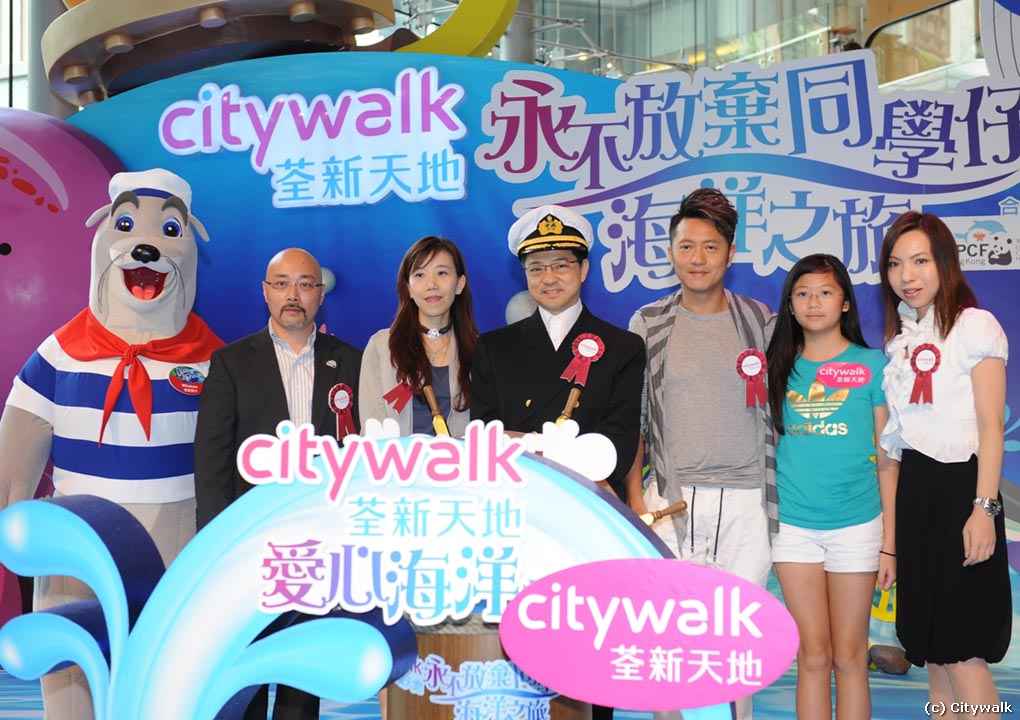 Kick off the "Citywalk - Never Give Up Summer Programme on Marine Conservation" at the openining ceremony on 7 July 2011 with Celebrities Captain Mr. Francis Mak (center), Mr. Edmond So (3rd on the right), and OPCFHK Deputy Director Mr. Timothy Ng (2nd on the left).
An exhibition was displayed to promote the importance of marine conservation. Different marine animals such as the finless porpoise and horseshoe crabs residing in Hong Kong were introduced. We also aimed to inspire the public to live a 4R-living and adopt sustainable seafood to protect our environment.
Donation was made fun and easy: adopt a manta ray, Napoleon wrasse or other lovely fishes using the Octopus Card at the donation kiosk. Visitors could also make a wish for our precious oceans and animals at the beautiful wishing well and help us protect our precious oceans.
Sixty students vowed their support to ocean conservation and headed to Ocean Park. The students got a close encounter with different marine animals by visiting the "Grand Aquarium" and the "Chinese Sturgeon Aquarium". The students also expressed their love towards the ocean through drawing, photography and performance.
Through different group activities, the students learnt about various fascinating marine creatures and the importance of marine conservation.
OPCFHK would like to thank Citywalk and all the participants for their support on marine conservation.