"Spin For Survival" Primary School Observation Wheel Cabin Design Competition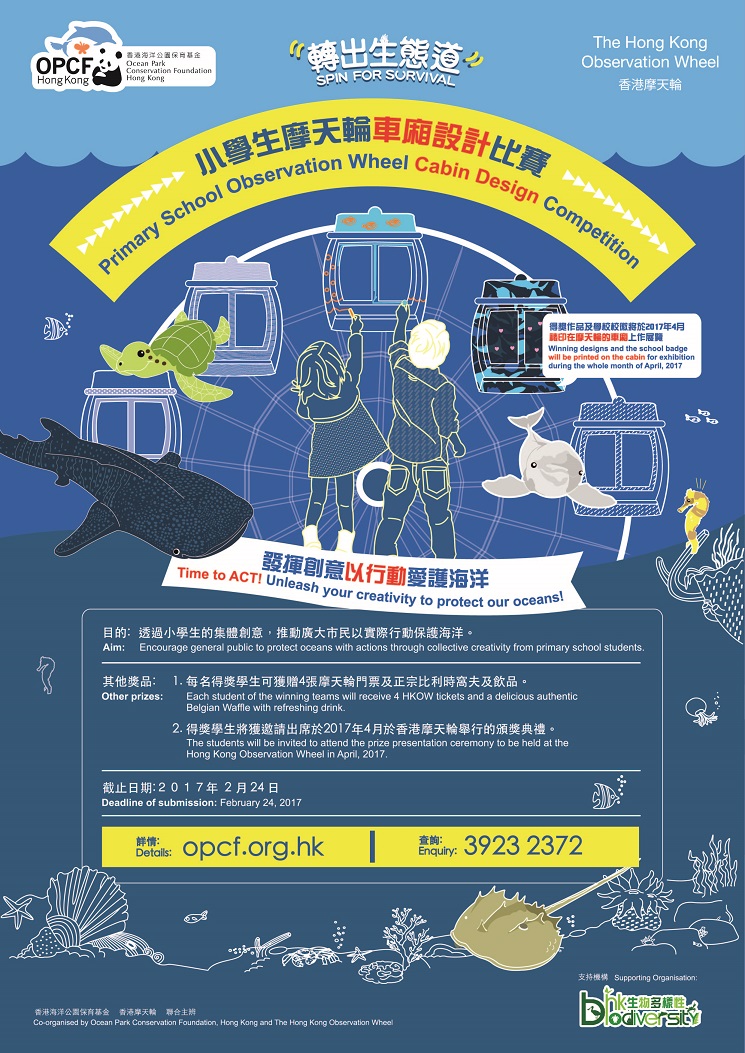 For the students who love drawing and want to speak up for animals, we have a perfect occasion where they can demonstrate their collective creativity. Ocean Park Conservation Foundation, Hong Kong (OPCFHK) is co-organising, with Hong Kong Observation Wheel, the primary school observation wheel cabin design competition that calls for teams of primary students to join. Led by a teacher, the participating team shall consist of 1 to 4 students studying in the same primary school, and design the cabin panels. All submissions shall be submitted electronically on or before 24 February, 2017 according to the procedures listed on the submission form.
Objectives: Encourage general public to protect oceans with actions through collective creativity from primary school students.
Prizes:
Each student of the winning teams will receive 4 HKOW tickets and a delicious authentic Belgian Waffle with refreshing drink.

Winning designs and the school badge will be printed on the cabin for exhibition in April, 2017.

The winning students will be invited to attend the prize presentation ceremony to be held at the Hong Kong Observation Wheel in April, 2017.
Competition Timetable:
24 February, 2017 - Deadline of submission
2 March, 2017 - Results to be announced on OPCFHK Facebook Page
March, 2017 - Winning schools deliver the original copies of the designs to HKOW
April, 2017 - Prize presentation ceremony to be held at the Hong Kong Observation Wheel
Submission:
Participating team must submit the completed submission form and the designs (either a scanned version or photo format, each email should NOT exceed 5MB) by email to competition@hkow.hk. Late submissions, emails re-sent or file size exceeding the limit shall not be considered.
Submission Deadline: February 24, 2017 (Friday)
Enquiry:
For enquiries regarding this competition, please email to ringo.shum@oceanpark.com.hk and contact Mr. Ringo Shum.