Individuals have many ways to show your support. OPCFHK accepts donations by credit card, cheque and Octopus Card. By visiting Ocean Park, you are supporting us. This is because HK$1 from each paid ticket goes to OPCFHK. Besides, by purchasing Ocean Park's panda merchandise and joining our interactive animal programmes, you are directly contributing to our conservation efforts.

Besides, OPCFHK launched "Friends of the Foundation" fan club, to engage wildlife and nature lovers in conservation for concerted efforts to conserve wildlife in Hong Kong and Asia. Through donation, you will become a FRIEND of the foundation, and enjoy the precious opportunities to obtain more information about Asia wildlife, and take part in various conservation work, activities and seminars. You and your children will get closer with the nature and understand Hong Kong ecology better! For more information, click here.
Make a donation now:
Online Donation
Donate to support the OPCFHK's conservation effort across Asia now!
Cheque payment / monthly credit card donation
Please download the form and return to us by
Mail: Ocean Park Conservation Foundation, Hong Kong
Ocean Park, Aberdeen, Hong Kong
Fax: 2553 5840
E-mail: opcf@oceanpark.com.hk
Octopus and cash donation inside Ocean Park:
- The Grand Aquarium
- The Lodge
- Amazing Bird Theatre
- The Hong Kong Jockey Club Sichuan Treasures
- Sea Jelly Spectacular
- Get Closer To The Animals Activities
- Giant Panda Adventure
- Chinese Sturgeon Aquarium Yangtze Exploration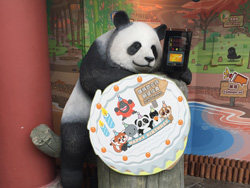 Charity Sales
Please download the order form and return to us by
Mail: Ocean Park Conservation Foundation, Hong Kong
Ocean Park, Aberdeen, Hong Kong
Fax: 2553 5840
E-mail: opcf@oceanpark.com.hk