Open Day Guided Tour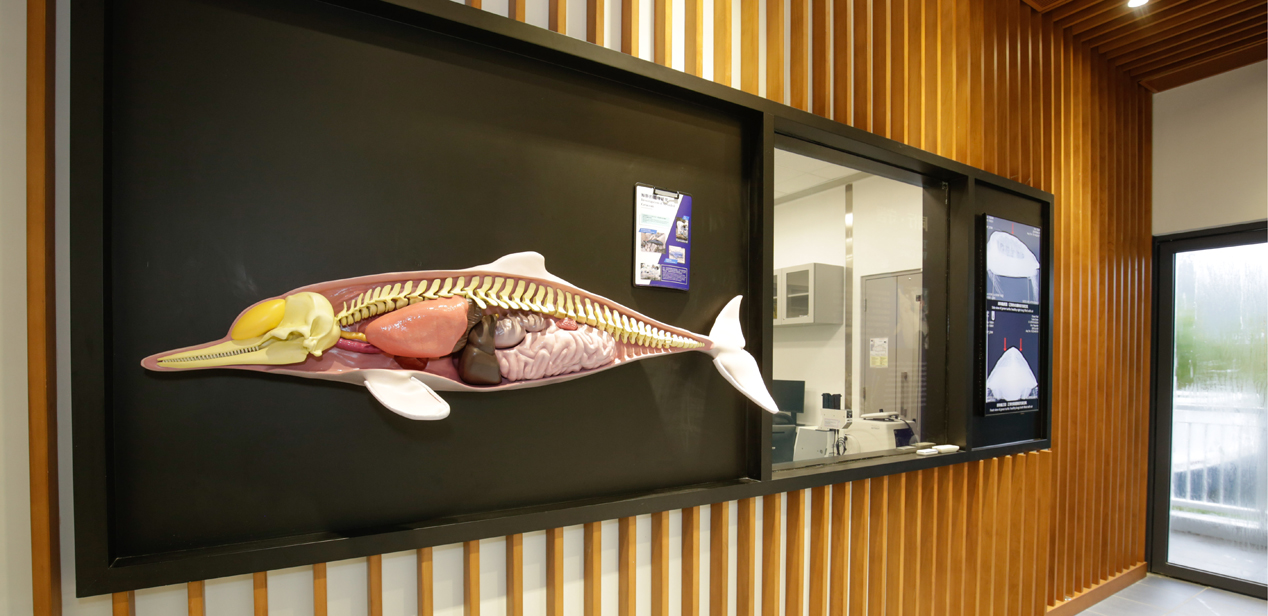 Funded by the HSBC 150th Anniversary Charity Programme, the Hong Kong Marine Life Stranding and Education Centre (HKMLSEC) has officially opened on 2 September 2019. The HKMLSEC is the first full-scale necropsy, virtopsy and education facility in Asia. In order to further enhance education in conservation, OPCFHK offers the public (for Ocean Park admission ticket holder only) a free monthly Open Day guided tour so as to let our participants to have a closer look at our work in marine life conservation and stranding response operation.


*In order to ensure social-distancing, the quota of each tour is reduced to 10 people*
During the tour, you will:
Learn about marine life (i.e. cetacean, shark and sea turtle) stranding programme
Find out how the team provides rapid response and investigation of stranded marine animals found in waters of Hong Kong and neighbour regions
Get to know the facility and equipment (i.e. CT scan, necropsy room, histopathology lab, walk-in freezer and fridge etc.)
Experience case study, skulls display, and stranding programme video showing
Learn about main threats of marine animals, especially cetacean, in Hong Kong
Remarks:
Tour time may vary, please refer to our website and Facebook for updates.
The facility is accessed by stairs. Should you need any special assistance, please make your reservation at (852) 3923-2323 at least 5 days in advance. No pre-booking needed otherwise.
Weather Arrangements:
In general, Ocean Park remains open in inclement weather, as we have many sheltered areas to protect visitors. However, in extremely adverse conditions such as when the Hong Kong Observatory issues a rainstorm warning or tropical cyclone signal, special Park arrangements will go into effect. For safety reasons, the tour may be suspended during inclement weather. Visitors should call Ocean Park enquiry hotline at (852) 3923 2323 or visit https://www.oceanpark.com.hk/en/weather-arrangements for information about our current weather arrangements.
Facility and Equipment
The Hong Kong Marine Life Stranding and Education Centre (HKMLSEC) is the first full-scale necropsy, virtopsy and education facility in Asia that offers all-round analysis of potential causes of marine life injury and death, while producing data-driven insights to help inform future monitoring and conservation efforts. The HKMLSEC is funded by the HSBC 150th Anniversary Charity Programme.
Background Information

Stranding Analysis

Since OPCFHK started cetacean stranding investigations in 2006, 30% of the cases were found with human-caused injuries. While entanglement, boat strikes and infections have been identified as the three major human-related factors threatening survivals of cetaceans in Hong Kong waters, most carcasses found are severely decomposed and only 10% of the causes of death can be determined.

With the opening of the new facility, Ocean Park Conservation Foundation, Hong Kong (OPCFHK) will be able to further investigate stranding cases and process more samples for laboratory analysis to fill the knowledge gaps.

Training

and

Education

The HKMLSEC is a unique medium to consolidate valuable stranding response skills, develop training resources, and facilitate local and regional research. It provides a platform for experts on the regional stranding network to exchange knowledge and skills to ensure high quality animal care and wildlife conservation in Asia.

The HKMLSEC also aims to inspire and train a new generation of scientists and conservationists. Through hands-on experiences and workshops, OPCFHK hopes to give the public an opportunity to learn more about stranding response operations and research, while expanding its conservation education efforts.
Necropsy Area
Equipment
Details

CT Scan

Maximum capacity: 250kg
Both live and deceased animals can be scanned
Device can scan and examine if an animal has ingested plastic or foreign objects
Provide images of any internal injuries such as bone fractures and lesions in internal organs

Digital X-Ray

Allows immediate inspection for diagnosis
Device is portable, enabling veterinarians to scan areas that are hard to reach
Traditional X-ray procedures such as film changing and animal reposition are no longer required
Digital data facilitates better storage and sharing with external experts

Walk-in Fridge

Temperature: 4°C
Temporary storage of stranded carcasses

Walk-in Freezer

Temperature: -22°C
Long term storage of stranding case samples

The Histopathology Grossing Station

An organised workstation for gross examination and section of specimens after postmortem. Tissue samples will be preserved in formalin at the workstation
Equipped with continuous mechanical ventilation (both backdraft and downdraft exhaust) to protect the operator during sample handling from harmful vapours
Also equipped with a water supply, sink, formalin container and a waste container to minimise biohazards or chemical risks
Histopathology Lab Instruments

Equipment
Details

Digital Slide Scanning System

The digital slide scanning system is an essential and state-of-the-art instrument in a model histology laboratory
Enables the digitisation of histopathology glass slides, which can then be viewed, copied and shared in original quality without risk of damage or loss to the conventional glass slides
Digital images can be easily shared with overseas research facilities and institutes for further consultation and collaboration, and will be securely stored and categorised on database as part of the laboratory information system

Biosafety Cabinet

Used for biohazard risks like working with microbial agents (bacteria and viruses, etc.), and biological agents treated with minute quantities of volatile toxic chemicals and high levels of organic compound to ensure no harmful particles will be released into the environment

Upright Bright Field Microscope and Stereo Microscope

Equipped with digital imaging capture attachments for routine clinical or biological examination of histology and cytology of stranded animal body fluid and tissue samples
Allows viewing and sharing of microscopic images via Wi-Fi stream for educational purposes