Background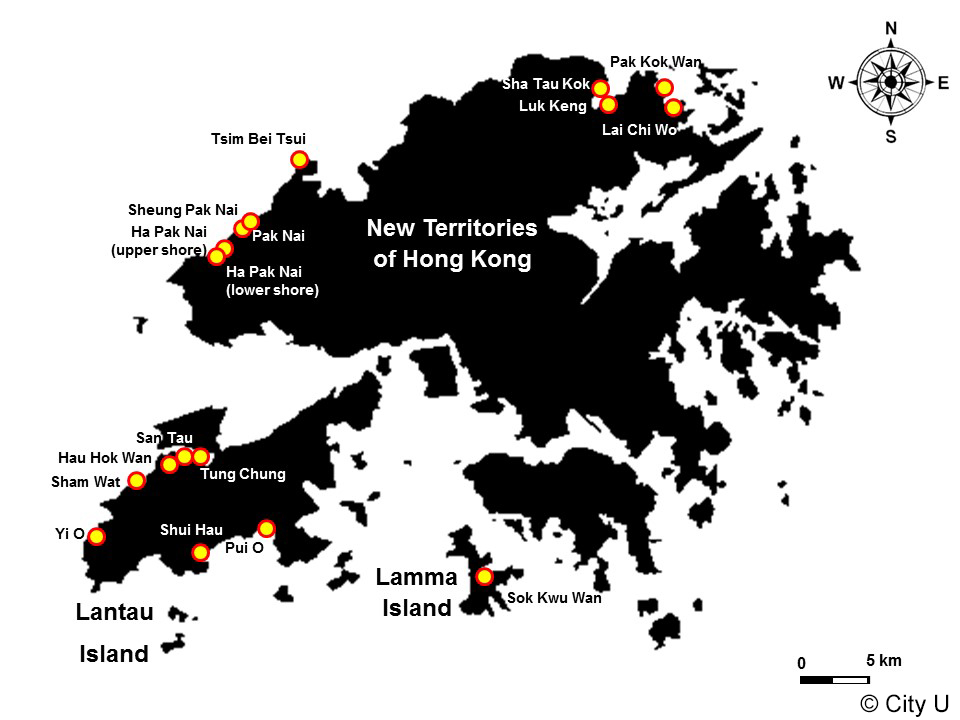 Since 2014, OPCFHK has carried out Hong Kong's largest juvenile horseshoe crab population survey in 17 mudflats in Hong Kong, including Ha Pak Nai, Pui O, Shui Hau and Tsim Bei Tsui.
Objectives:
To document the abundance and population distribution of juvenile horseshoe crabs on their spawning and nursery shores in Hong Kong
To compare present data with past records in order to identify any trend of population changes over time
Horseshoe Crabs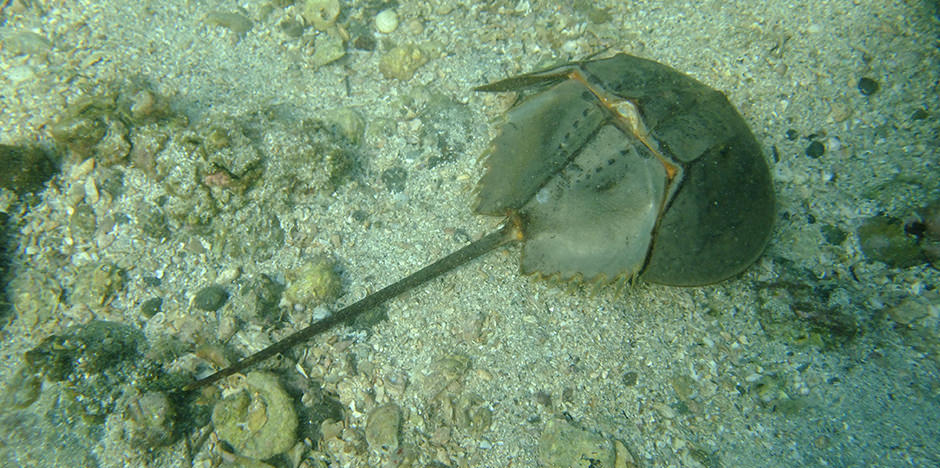 Horseshoe crab has existed since the Late Ordovician Period (475 million years ago), about 230 million years earlier than the early appearance of dinosaurs on Earth. The body forms of horseshoe crab haven't changed much over the years and thus the species is considered a "living fossil". It has a significant evolutionary and biological value. In recent years, this living fossil has been affected by human factors and is facing the threat of extinction. According to City U's research in 2009, the wild population of horseshoe crabs had dropped by over 90% between 2002 and 2009 due to habitat degradation caused by urban development.
IMPORTANCE
The Amazing Blue Blood of the Living Fossil
The extract of horseshoe crab blood can be made into Tachypleus Amebocyte Lysate (TAL) which is an efficient detector for bacterial endotoxins. It is widely used in testing drugs, products and devices that come in contact with human blood in medical uses and has a tremendous contribution to our medical development.
THREATS
| | | |
| --- | --- | --- |
| Human exploitation for food, conch fishery baits and medical uses | Loss of spawning and nursery beaches owing to urban development and pollution | Entangled to death by fishing nets or gears abandoned in the sea |
Juvenile Horseshoe Crab Population Survey
METHODOLOGY
The survey is conducted in two methodologies: random quadrat sampling and walk-through search. Random quadrat can provide an estimate of the density of juvenile horseshoe crabs on the shore. In view of the low abundance of the juveniles encountered, an additional walk-through search is conducted to complement the data recorded from quadrat sampling
RANDOM QUADRAT SAMPLING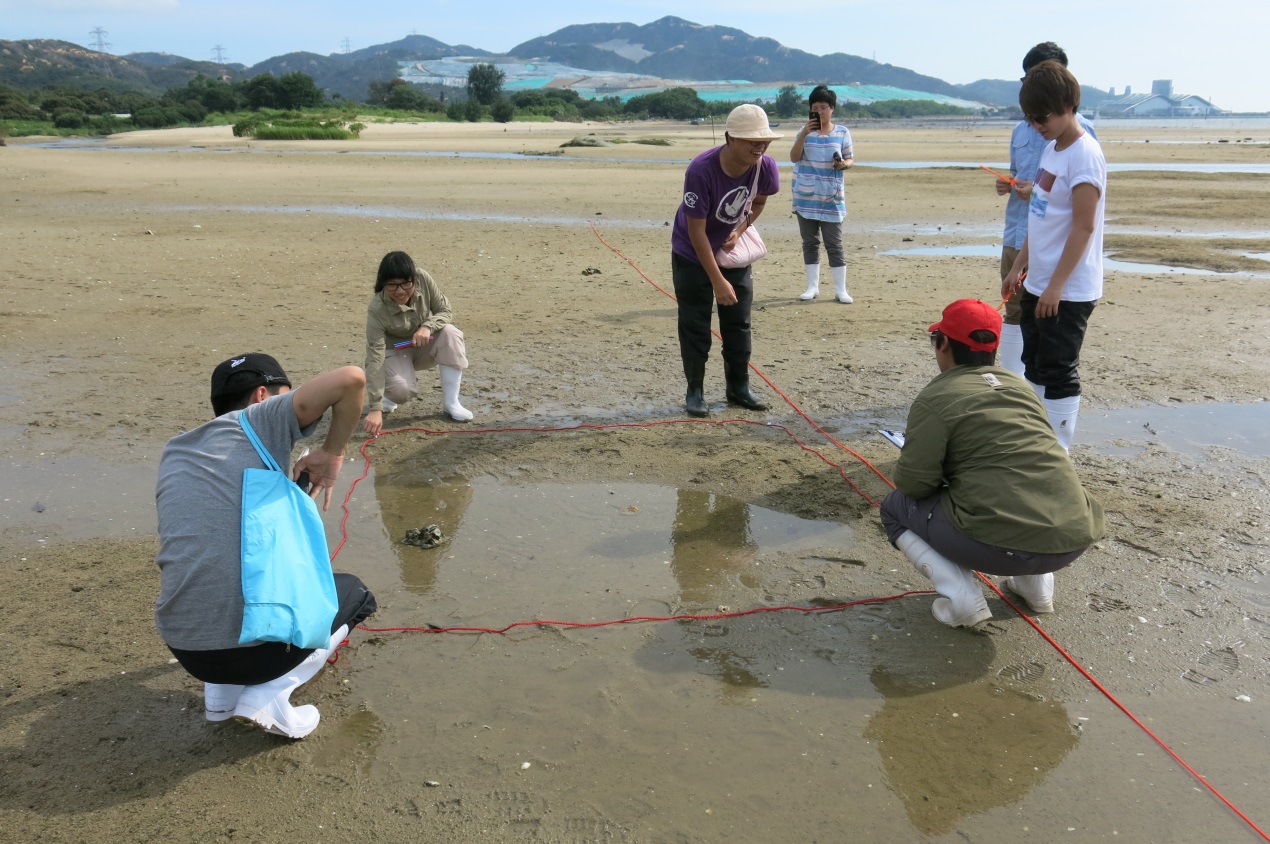 4 horizontal and parallel transects are set equally apart on each shore. Along each transect, 5 quadrats (8mx8m) are randomly selected. Emerging juveniles along each transect are sampled. The number of horseshoe crabs, prosomal width, species, water temperature, salinity, pH value and dissolved oxygen are recorded.
WALK-THROUGH SEARCH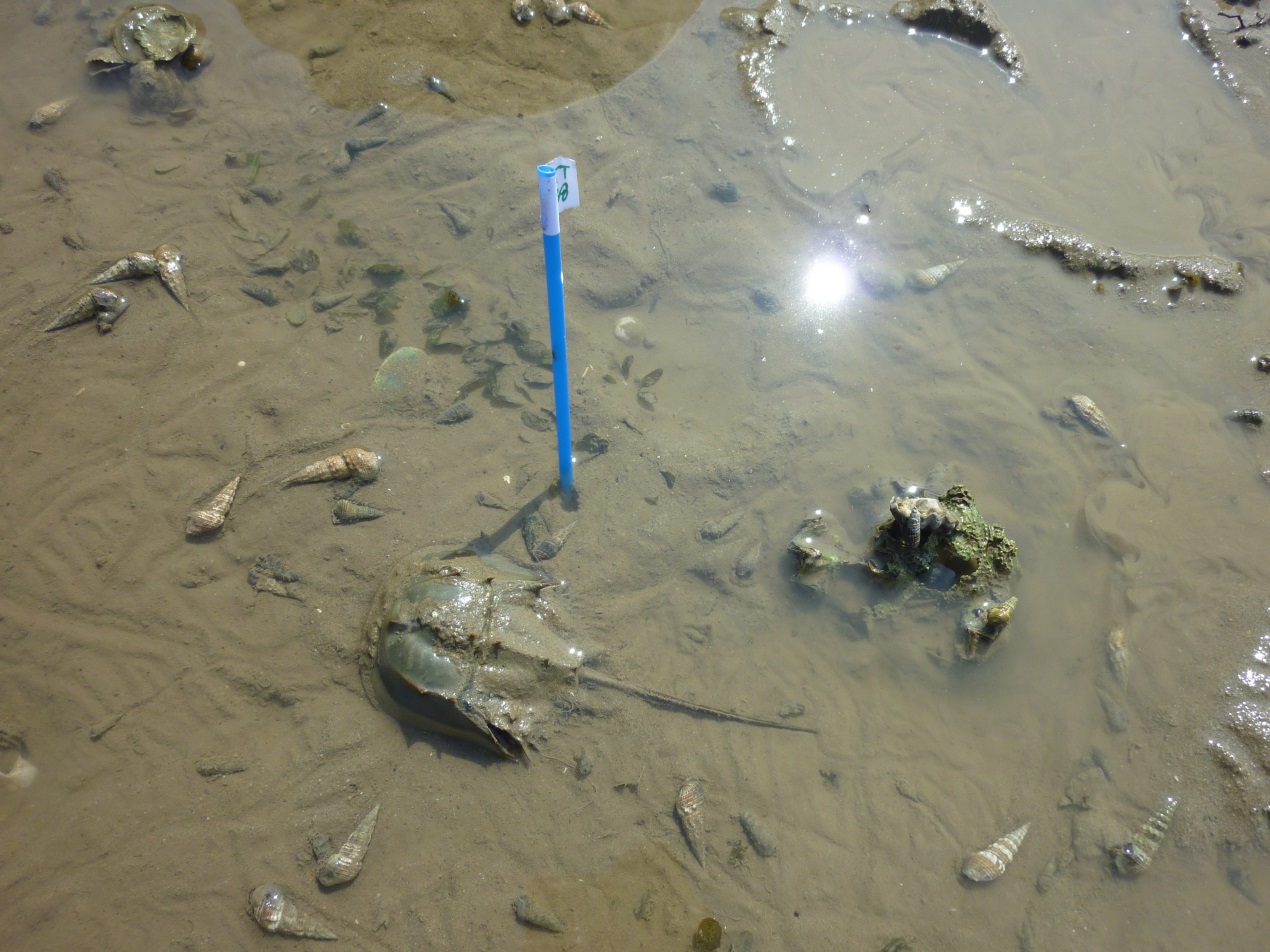 Two trained surveyors are required to walk side-by-side in a fixed 2-meter distance. The number and species of horseshoe crabs are recorded along the transect.
RESULT
Juvenile horseshoe crabs were found in 11 of the 17 selected sites.
Estimated that over 2,000 juvenile Chinese horseshoe crabs and 2,400 juvenile mangrove horseshoe crabs are living in Hong Kong.
60% of juvenile Chinese horseshoe crabs can be seen in Pak Nai and Ha Pak Nai; 35% of juvenile mangrove horseshoe crabs can be found in Sha Tau Kok.
Get Involved
Say NO to Buying Horseshoe Crabs
In addition to reducing pollution and protecting our environment, refusing to eat or buy horseshoe crabs can also help to conserve them.

Join Friends of the Foundation
Friends of the Foundation organises conservation activities for members regularly, including mudflat-cleanup which helps to restore the habitat of horseshoe crab. Join Friends of the Foundation NOW! You can support our work through monthly or one-off donation, and joining our conservation activities!