University Student Sponsorship Programme 2019-20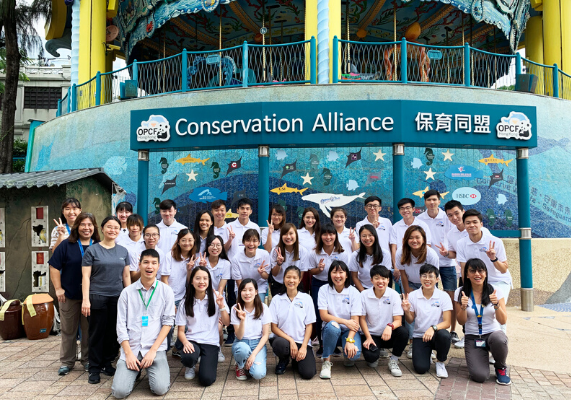 On the 16th year of USSP, OPCFHK will sponsor a total of 31 students from seven different universities. They are heading to seven Asian regions and countries including China, India, Indonesia, Mongolia, Philippines, Sri Lanka, and Taiwan to support frontline conservation work and research. The animal species they have supported included Bali starling, Bryde's whale, Chinese horseshoe crab, Chinese white dolphin, coral and Banggai cardinalfish, dugong, freshwater turtles, giant panda, Mongolian marmot, sea birds, sharks and rays, and terrestrial birds and mammals, spreading the spirits of conservation through their journeys and conservation projects.
The Foundation also organises field trips for the students to learn more about Hong Kong's biodiversity and to get ready for their overseas conservation trips.
WANG Jia Ying Katherina

The Education University of Hong Kong

CHOW Tsz Kwan Anna

Lingnan University

Animal Species:

Bali starling

Location:

Bali, Indonesia

Date:

December 17 to 30, 2019

Principal Investigator:

Ms Carolyn KENWRICK, Begawan Foundation

Research Focus:

Local community collaboration for the successful conservation of the Bali starling

Journey record: 1 / 2 / 3 / 4 / 5
Infographic: Species introduction / Student participation
TANG Lok Yi Carol
Hong Kong Baptist University

YIP Shu Kai James
The University of Hong Kong

Animal Species: Chinese white dolphin and Bryde's whale
Location: Guangxi, China
Date: January 3 to 12, 2020
Principal Investigator: Mr. CHEN Mo, Guangxi Academy of Sciences
Research Focus: Drone survey of Chinese white dolphin and population survey of Bryde's whale

Students' Participation:

Cetacean boat-based population survey and drone survey
School and community education work in Weizhou Island

Journey record:

1 / 2 / 3 / 4 / 5
WONG Tsz Ching Shirley
The University of Hong Kong

KWOK Ka Lee Kelly
The Hong Kong University of Science and Technology

Animal Species: Giant panda
Location: Sichuan, China
Date: December 24, 2019 to January 7, 2020
Principal Investigator: Prof. LI Desheng, China Conservation and Research Center for Giant Panda
Research Focus: Wild release training for giant panda

Students' Participation:

Behaviour record for panda under wild training
Field tracking of released pandas and infra-red triggered camera set-up
Bamboo quadrant survey
HUNG Ka Hei Keira and WONG Wing Nicole
The Hong Kong University of Science and Technology

Animal Species:

Bali starling

Location:

Bali, Indonesia

Principal Investigator:

Ms Carolyn KENWRICK, Begawan Foundation

Research Focus:

Local community collaboration for the successful conservation of the Bali starling
WONG Hei Ching Smiley and AU Hing Man Candy
Hong Kong Baptist University

YEUNG Chun Fung Michael and CHUNG Kai Jing Jeremy
The Hong Kong University of Science and Technology

Animal Species: Dugong
Location: Palawan, Philippines
Date: May to June, 2020
Principal Investigator: Mr. Reynante RAMILO, Community Centred Conservation (C3)
Research Focus: Community-Driven Monitoring and Conservation of Palawan's Threatened Dugongs

Students' Participation:

Land-based survey for dugongs
Monitoring of dugong eco-tourism
Monitoring of feeding tracks of dugongs and seagrass bed assessment
Assist local community education work to raise awareness on dugong conservation
IP Cheuk Long Sky
City University of Hong Kong

LAI Kwun Yin Winston
The Chinese University of Hong Kong

Animal Species: Chinese horseshoe crab
Location: Taiwan
Date: May to June, 2020
Principal Investigator: Dr. YANG Mingjie, Blue Ocean Alliance
Research Focus: Taiwan juvenile horseshoe crab survey: survey of juvenile horseshoe crab populations and habitats in Kinmen, Penghu and Xiangshan, Taiwan

Students' Participation:

Mudflat survey: horseshoe crab population survey, measurements of environmental parameters, substrate and benthic sample collection
Environmental education activity design and execution
Citizen science surveys or environment activity, such as mudflat clean up and marine debris art
WONG Hoi Ching Sarah and LEE Tsz Chung Ronald
The Chinese University of Hong Kong

AU Yuen Yi Jamie and TSUI Tsz Ching Kelly
The University of Hong Kong

YAU Sze Man Sandy
Hong Kong Baptist University

Animal Species: Terrestrial mammals
Location: Indonesia
Date: May to June, 2020
Principal Investigator: Dr. Mark HARRISON, Borneo Nature Foundation
Research Focus: Developing local community nurseries to protect and restore threatened wildlife habitat in Indonesian Borneo

Students' Participation:

Orangutan nest surveys, infra-red triggered camera trap surveys, forest cover mapping
Habitat restorations, including peat swamp habitat restoration, seedling replanting, canal dam building, rebuilding the nursery in field camp
Community education and community development activities in villages
HUNG Pak Yam Linus
The University of Hong Kong

LAM Wing Yan Yanmy
The Hong Kong University of Science and Technology

Animal Species: Mongolian marmot
Location: Mongolia
Date: May to June, 2020
Principal Investigator: Mr. Tumurbaatar ENEBISH, Conservation Research and Education Center
Research Focus: Promoting model for community conservation of Mongolian marmot

Students' Work:

Collecting field data of the Mongolian marmot
Interview with local herders and visit herder households
LU Wing Shan Susan

The Chinese University of Hong Kong

LAM Si Yu Renee

The University of Hong Kong

Animal Species:

Coral and Banggai cardinalfish

Location:

Sulawesi and Bali, Indonesia

Principal Investigator:

Mrs. Gayatri LILLEY, Yayasan Alam Indonesia Lestari

Research Focus:

Community-based conservation management of the Banggai cardinalfish

Assist the research team in population surveys to study the impacts of the local fishery on the population of Banggai cardinalfish
participate in the Banggai cardinalfish breeding programme
Assist in research and restoration of degraded coral reef
CHUNG Suet Wah Sheena and MAN Hiu Tung Natalie
The University of Hong Kong

Animal Species: Sharks and rays
Location: Sri Lanka
Date: May to June, 2020
Principal Investigator: Mr. Daniel FERNANDO, Blue Resources Trust
Research Focus: Determining elasmobranch diversity and conducting age-growth analyses of threatened species to support sustainable fisheries management in Sri Lanka

Record elasmobranch and reef fisheries at landing sites
Laboratory work for an age-growth study
Coral reef transect survey
LEE Ling Kak Ruth, LOW Megan Mei Yan and CHAN Lai Ying Alex
The University of Hong Kong

LEUNG On Sang, Anson
The Hong Kong University of Science and Technology

Animal Species: Terrestrial mammals and birds
Location: West Visayas, the Philippines
Date: May to June, 2020
Principal Investigator: Ms. Ysabella MONTANO, Talarak Foundation Inc.
Research Focus: West Visayas species reintroduction project

Students' Participation:

Terrestrial bird and mammal population assessments: infra-red triggered camera trap surveys, transect surveys, bird point count surveys, radio-telemetry
Habitat assessment, reforestation and invasive species removal
Community engagement, education and awareness-raising
Animal husbandry and behaviour record
YIM Kar Bo Anthony
The Chinese University of Hong Kong

LEE Hoi Kwong Hugo
The Hong Kong University of Science and Technology

Animal Species: Threatened freshwater turtles
Location: India
Date: May to June, 2020
Principal Investigator: Dr. Shailendra SINGH, Turtle Survival Alliance India
Research Focus: Recovering India's most endangered turtles; northern river terrapin (Batagur baska) in the Sundarbans

Freshwater turtle nest protection
Radio-telemetry and mark-recapture exercises
Husbandry and morphometrics and chelonian photography
Community outreach programme