Launch of Hong Kong Marine Life Stranding and Education Centre
Ocean Park and Ocean Park Conservation Foundation Boost
Stranding Response, Investigation and Research Capabilities with Launch of
Hong Kong Marine Life Stranding and Education Centre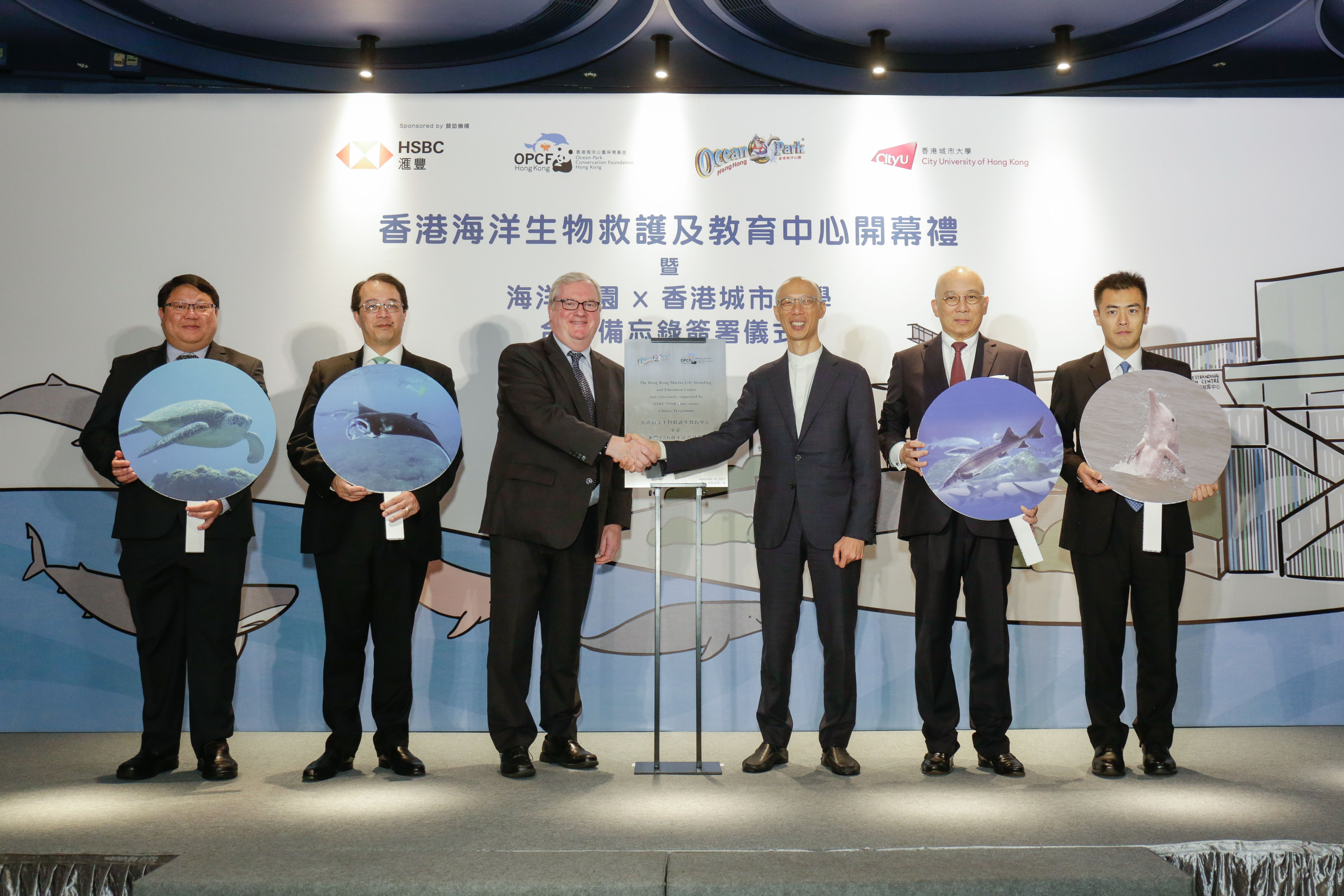 Photo 1: (From left) Professor Kenneth Leung, JP, Trustee Member of Ocean Park Conservation Foundation, Hong Kong; Mr Richard Tsang, Trustee Member of Ocean Park Conservation Foundation, Hong Kong; Mr Mark McKeown, Group General Manager and Chief Risk Officer, Asia-Pacific, The Hongkong and Shanghai Banking Corporation Limited; Mr Wong Kam-sing, GBS, JP, Secretary for the Environment; Mr Leo Kung Lin-cheng, GBS, JP, Chairman of Ocean Park; and Mr Lau Ming-wai, GBS, JP, Deputy Chairman of Ocean Park Corporation unveiled the Hong Kong Marine Life Stranding and Education Centre.
(Hong Kong, 2 September 2019) Ocean Park and Ocean Park Conservation Foundation, Hong Kong (OPCFHK) announces today the grand opening of the Hong Kong Marine Life Stranding and Education Centre (HKMLSEC). Funded by the HSBC 150th Anniversary Charity Programme, the Centre is the first full-scale necropsy, virtopsy, research and education facility in Asia that offers all-round analysis of potential causes of injury and death of marine life, and data-driven insights to shape future monitoring and conservation efforts.
This year alone, OPCFHK and Ocean Park have attended to an alarming 37 cetacean stranding cases since January, a close to two-fold increase compared to 19 cases in the first eight months of 2010, raising concerns over the ecological damage and survival of cetaceans in Hong Kong waters and beyond.
Secretary for the Environment Wong Kam-sing, the officiating Guest of Honour of HKMLSEC, acknowledged the importance of the Centre's establishment. "The Government provides active support to OPCFHK's work in public education, scientific research and technical assistance for rescues. OPCFHK has been collaborating with the Agriculture, Fisheries and Conservation Department to set up and manage Hong Kong's only Marine Mammal Conservation Working Group since 2006. The working group studies in detail stranded cetaceans in Hong Kong waters, and collects samples for analysis to understand cetacean behaviour, environmental factors and threats affecting cetaceans, contributing to marine ecology conservation in Hong Kong. Over 420 cases had been handled in the 12 years ending 2018. Concerted effort of the government, non-governmental organisations and the general public is critical to ecological conservation," said Wong.
"The Hong Kong Marine Life Stranding and Education Centre will build on OPCFHK and Ocean Park's cetacean rescue and stranding response efforts," said Judy Chen, Chair of OPCFHK. "Thanks to the generous support of HSBC and the HSBC 150th Anniversary Charity Programme, we have created an Asia-first facility with state-of-the-art equipment for the investigation, data collection, analysis and research of cetacean strandings and marine mammal rescues. The Centre will act as a platform for the study of the biology, ecology and conservation of finless porpoises, and Chinese white dolphins in Hong Kong and the Pearl River Estuary. It will also further the Park's rehabilitation work for other marine animals such as green turtles, and offer the academic community the opportunity to expand their laboratory and research work in marine life science and conservation."
Mark McKeown, Chief Risk Officer, Asia Pacific, HSBC, said, "At HSBC, we have a long tradition of supporting the communities we serve, including those in our natural world. We are pleased to be supporting the Hong Kong Marine Life Stranding and Education Centre through the HSBC 150th Anniversary Charity Programme. The Centre will play an important role in furthering our understanding of marine mammal health and preservation, and we believe the Centre's future discoveries will significantly contribute to the growing body of marine knowledge globally."
HKMLSEC as a regional marine research, training and education facility
Equipped with comprehensive, advanced facilities including a computerised tomography (CT) scanner, histopathology examination laboratory and necropsy area, HKMLSEC is well positioned to improve both the quantity and quality of data processing and analysis. The Centre offers a virtual data library of marine stranding cases, through which specimen and samples can be shared with external and overseas experts via a live streaming system for knowledge sharing and consultation, filling the gaps of current stranding programmes, while strengthening the training and research capabilities of the Ocean Park Veterinary Centre, which has become a designated training clinic for Hong Kong's veterinary practice, recently approved by the Veterinary Surgeons Board of Hong Kong.
In addition to professional workshops, HKMLSEC will play host to education tours and programmes for the public. The HKMLSEC Open Day Tour provides a close look at OPCFHK's stranding response efforts and equipment involved. The Mystery of Marine Life Stranding programme offers junior secondary students an insider look into different examination techniques used in stranding investigations through interactive activities and case studies, while the Workplace Visits to Ocean Park – Animal Rescue programme will introduce senior secondary students to the advanced equipment and necropsy methods, and deep dive into the role of Ocean Park's veterinary team in animal rescue through experience sharing.
-End-