Take part in OPCFHK's "Run For Survival" 2020 to Raise Funds for Wildlife Conservation in Asia
Take part in OPCFHK's "Run For Survival" 2020 to Raise Funds for Wildlife Conservation in Asia
Discounts available for Early Birds, Friends of Foundation and Ocean Park SmartFun Annual Pass Holders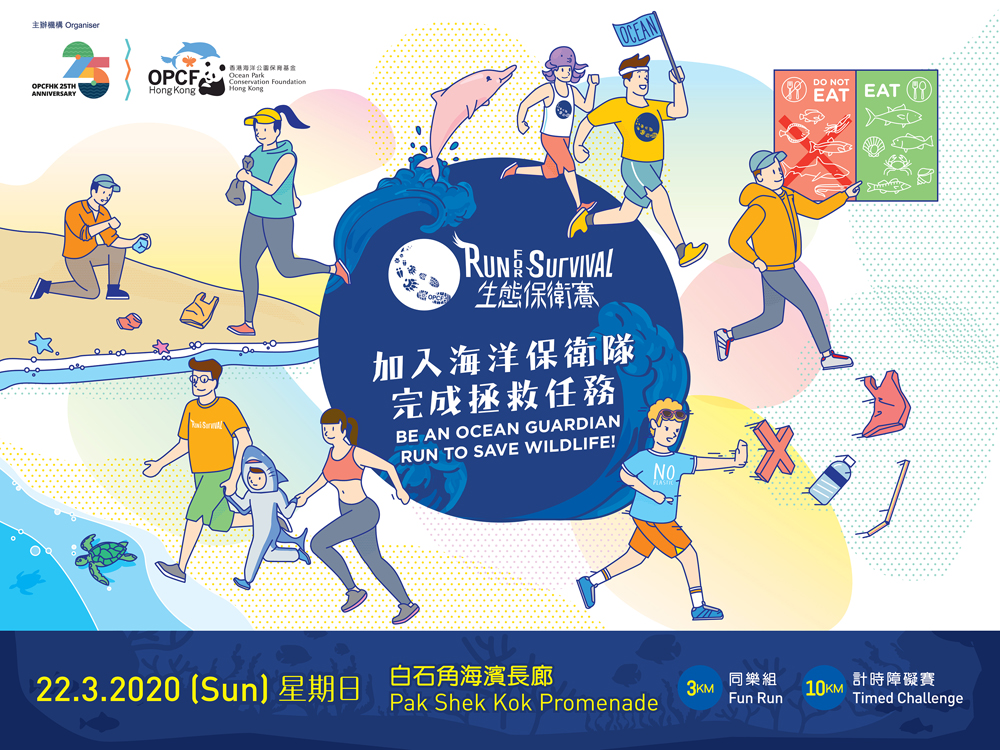 In response to the latest developments regarding the coronavirus (COVID-19), also taking into account the health and safety of the participants, volunteers, and staff, "Run for Survival 2020" (originally scheduled for March 22, 2020) will be postponed. Ocean Park Conservation Foundation, Hong Kong (OPCFHK) apologises for any inconvenience caused and appreciates your understanding. For updates about the event, please refer to the OPCFHK website, Run for Survival website, or our Facebook and Instagram pages.

Should you have any other enquiries, please contact us at (852) 3923 2157 or email to opcf@oceanpark.com.hk.
(14 January 2020, Hong Kong) Ocean Park Conservation Foundation, Hong Kong (OPCFHK)'s annual charity run is the perfect event for those keen to do their part for the environment while working up a sweat. Held on 22 March 2020, "Run for Survival" is a family-friendly fun run that aims to promote biodiversity and marine conservation by raising awareness on the threats faced by sea animals. Taking over Pak Shek Kok Promenade this year, participants will set foot on an adventurous journey to become Ocean Guardians by completing a number of fun missions that illustrate the daily traumas faced by marine animals. All proceeds from the event will go to OPCFHK to support their Asian wildlife conservation work. And, as with previous years, marine-themed fancy-dress is most welcome!
Registration is open from now until 29 February 2020 at https://www.fringebackerevents.com/events/ocean-park-conservation-foundation-hong-kong-run-for-survival-2020/! Early bird discounts are available before 7 February 2020, with discounts also available for Friends of Foundation and Ocean Park SmartFun Annual Pass Holders from 8 February till 29 February, 2020. Don't miss the chance to take part in this fun and meaningful event with family, friends and colleagues!
There are race categories to suit different age groups and levels of experience. Experienced runners and corporate teams can consider the 10km Individual Timed Challenge or the Corporate Champion Cup, while beginners or families are encouraged to join the 3km Individual or Family Fun Run. All Ocean Guardians will navigate their way through the obstacle courses, bringing to life how marine animals struggle to swim across an ocean filled with abandoned fish nets and marine debris. They'll also take away important lessons about the devastating situation near the Great Pacific Garbage Patch, the negative impact of deep-sea trawling to coral reefs, how soaring carbon emissions lead to acid rain and the deterioration of the ocean habitat, and how overfishing has caused a drastic reduction to marine stocks and also harms the ecosystem. All runners who overcome the series of obstacles to successfully complete the course will receive an Ocean Guardian e-certificate, while top runners will win exciting prizes including a beautiful medal, a one-year membership of the Ocean Park SmartFun Annual Pass, supreme dining vouchers and a sports sunglasses redemption voucher.
In addition to the run itself, the Fun & Learn Centre will offer activities such as game booths, photo opportunities and workshops for visitors to enjoy more fun and get tips on saving the earth. All participants will also receive a limited-edition Run for Survival Runner's Pack with an event t-shirt, number bib, foldable cup, discount coupon for daytime admission tickets to Ocean Park Hong Kong and sponsors' gifts. Those who complete the 10km timed challenge will also receive a limited edition medal.
2020 marks an important milestone for OPCFHK as it celebrates its 25th anniversary. In particular, the "Run for Survival" charity run is part of OPCFHK's continuous effort to boost awareness of biodiversity and marine conservation. Find out more about Ocean Park Conservation Fund and its work at https://www.opcf.org.hk/. Hongkongers can also join Friends of Foundation, donating to support OPCFHK's conservation efforts across Asia.
Run For Survival 2020 Details
Registration Deadline: 29 February 2020
Event Date: 22 March 2020 (Sunday)
Time: 7:30am-2:00pm
Venue: Pak Shek Kok Promenade
For Registration and details: https://www.fringebackerevents.com/events/ocean-park-conservation-foundation-hong-kong-run-for-survival-2020/home/
Categories

Minimum Donation Amount (HKD)

Early Bird Discount

(From now until 7 Feb 2020)/

Friends of Foundation or Ocean Park SmartFun Annual Pass Holder

(From now until 29 Feb 2020)

10km Timed Challenge

Individual

$480 per runner

$380 per runner

Corporate Champion Cup

$6,000 per team

N/A

3km Fun Run

Individual

$350 per runner

$300 per runner

Family

$800 per team

$750 per team