Ocean Park Conservation Foundation "RUN FOR SURVIVAL" 2019
【Press – For Immediate Release 】
Ocean Park Conservation Foundation "RUN FOR SURVIVAL" 2019
Opens for Registration
New Relay Race Category and Pre-race Training Class Introduced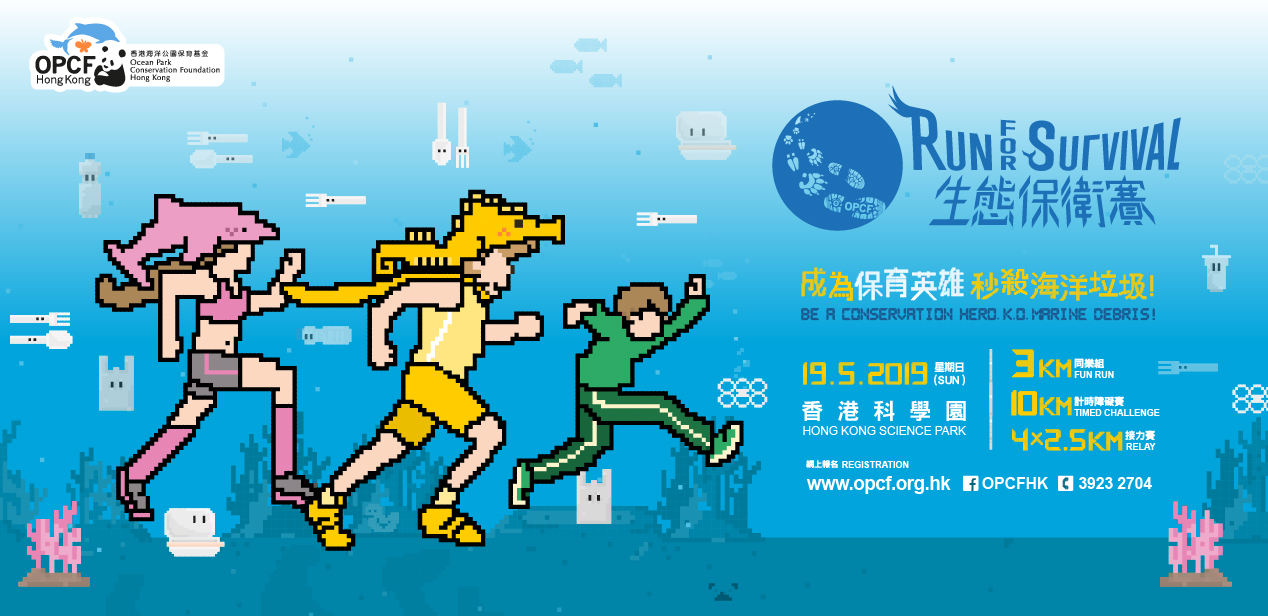 (7 March 2019, Hong Kong) Run for Survival, the annual fundraising obstacle race organised by Ocean Park Conservation Foundation, Hong Kong (OPCFHK), will take place on 19 May 2019 along Pak Shek Kok Promenade from the start line at Hong Kong Science Park. Participants can become a conservation hero by eliminating obstacles that symbolise marine debris while taking in the captivating views of Tolo Harbour. Registration is now open at https://bit.ly/opcfhk-run-for-survival-2019 through 27 March 2019.
For the first time, the obstacle race will offer pre-race training sessions (with additional cost) for participants to sign up to, and get expert tips from Crystal Vut, long-distance runner and Hong Kong marathon representative for the 2018 Indonesia Jakarta Asian Games, as well as professional running coach and TV sports programme presenter Lily Lee, on ways to brush up their running skills.

A thematic fun race designed to promote biodiversity and wildlife conservation, Run for Survival aims to heighten public awareness on threats to oceans and wildlife caused by marine debris. The event is also part of OPCFHK's efforts in promoting the reduction of disposable plastic consumption. All donations raised will go towards OPCFHK's Asian wildlife conservation projects.
The obstacle race features three categories this year, including the Individual 10km Timed Challenge (Individual Male and Female Groups/ Champion Cup for corporations), the 3km Fun Run for individual or families, and the newly created Mixed-Gender and Mixed-Age 4 x 2.5km Timed Challenge Relay.
Created to simulate the struggles of marine life in surviving a habitat full of marine debris, the challenging tasks at checkpoints of the obstacle race include: traversing a rope course, walking on a balance beam and escaping from "Ocean Killers". Participants who defy all obstacles and complete the race will be awarded "Conservation Hero" e-certificates, while champions of the 10km Timed Challenge will bag the title of "Super Conservation Hero" and take home Ocean Park SmartFun Annual Passes amongst other gifts.
In addition to the obstacle race, there will be a Fun & Learn Centre on-site to inspire the public to help reduce the devastating impact of plastic waste in daily life. Among the fun games and workshops are rescue missions to "untangle" sea turtles from plastic debris; creative photo opportunities for "Conservation Heroes" to dress up with up-cycled accessories; and workshops on ways to make clay and mosquito-proof tiles to limit consumption of products containing microplastics.
| | |
| --- | --- |
| | |
| Participants can become a conservation hero by eliminating obstacles that symbolise marine debris. | In addition to the obstacle race, there will be a Fun & Learn Centre on-site to inspire the public to help reduce the devastating impact of plastic waste in daily life. |
| | |
| The obstacle race features three categories this year, including the Individual 10km Timed Challenge (Individual Male and Female Groups/ Champion Cup for corporations), the 3km Fun Run for individual or families, and the newly created Mixed-Gender and Mixed-Age 4 x 2.5km Timed Challenge Relay. | Participants can get expert tips from Crystal Vut, long-distance runner and Hong Kong marathon representative for the 2018 Indonesia Jakarta Asian Games, as well as professional running coach and TV sports programme presenter Lily Lee, in the pre-race training sessions. |