OPCFHK Extends Sponsorship of HKU Associate Professor's Marine Mammal Research and Conservation Programme
OPCFHK Extends Sponsorship of HKU Associate Professor's
Marine Mammal Research and Conservation Programme

More Knowledge and Urgent Action Needed to Halt "Worse than Expected" Decline in Chinese White Dolphin Population

(March 18 2013 – Hong Kong) To further enhance the Foundation's determined commitment to regional marine mammal conservation, Ocean Park Conservation Foundation, Hong Kong (OPCFHK) will continue for the coming two years to fund a series of research projects of Dr. Leszek Karczmarski, Associate Professor at the University of Hong Kong (HKU) through a university scholar sponsorship programme. The sponsorship aims to enable Dr. Karczmarski to advance knowledge about marine mammals in order to ultimately develop conservation plans for the severely depleted populations of marine mammals in the region through research studies in Hong Kong and the Pearl River Estuary, and further afield in the largely understudied regions of Southeast Asia and the Western Pacific, as well as by training local conservation specialists at the University.
OPCFHK has been supporting the work of the Polish-born Associate Professor through a long-term partnership arrangement since 2009 and will continue the support for the next two years. The sponsorship has enabled Dr. Karczmarski to make significant contributions in marine mammal conservation, including the establishment of several new research studies, supervising 14 post-graduate students, including postgraduates at HKU and universities in Mainland China and Taiwan; establishing Cetacean Behavioural Ecology Laboratory at the Swire Institute of Marine Science (SWIMS); authoring 8 new research publications in peer-reviewed scientific journals; and teaching over 130 undergraduate students. Furthermore, Dr. Karczmarski has established a series of specialised technical research workshops, initiated in 2010, where he invites researchers, students and conservationists from Southeast Asian countries to standardise research techniques and build a regional conservation research network.
One of Dr. Karczmarski's projects has been a study of the ecology and population structure of Chinese white dolphins (CWD) in the Pearl River Estuary. Some of the research findings have recently been publishedjointly with Dr. Huang Shiang-lin of the National Taiwan Ocean University, Research Associate at Dr. Karczmarski's HKU Lab, and colleagues from the Sun Yat-sen University in Zhuhai. The findings indicate that the Chinese white dolphin population in the Estuary is declining annually at a disturbing rate of 2.46%. With the CWD population currently believed to be around 2,500, the decline translates to over 60 individual dolphins lost every year. Meanwhile, demographic analyses forecast that the number could fall by as much as 74% in the next 60 years if the decline continues at the same rate.
"These alarming figures highlight the urgent need for immediate efforts to conserve the Chinese white dolphin," explained Dr. Karczmarski. "Our studies have revealed that the population of these mammals in the Pearl River Estuary, in waters flanked by the coastal development in Hong Kong, Shenzhen and Zhuhai, is in a far worse situation than previously thought."
According to Mr. Timothy Ng, OPCFHK's Deputy Director, "OPCFHK actively conserves marine mammals, with Chinese white dolphins as one of our focal species. We have allocated over $14 million to fund over 100 marine mammal scientific research and conservation projects since its expansion in 2005. It is critical that Dr. Karczmarski can continue his efforts to advance our knowledge and build our local marine mammal research capacity, which will enable Hong Kong to become an internationally important regional hub for this area of research in the long term. Our knowledge and integrated regional efforts will help to ensure the sustainability of Chinese white dolphins in Hong Kong and neighbouring waters. Well-focused and timely research that applies cutting edge modern techniques, standardised scientific research techniques and bridges with researchers and conservationists across the region, as well as public engagement and awareness campaigns, take marine mammal conservation to the next level."
Professor Rudolf Wu, the Chair Professor and Director of the School of Biological Sciences at HKU, paid tribute to Dr. Karczmarski's achievements and OPCFHK's support. "The continued sponsorship Leszek is receiving from OPCFHK will enable him to continue helping to assemble a regional cetacean research network that can share data, ideas, and strategies for research and conservation. Leszek has previously studied the ecology, behaviour and conservation of marine mammals, especially dolphins, in South Africa, Hawaii and the mainland United States, as well as Central and South America. Now he has brought his expertise to the seas around Southeast Asia and is certainly putting the focus on marine conservation in the region. In a matter of months, we have been able to achieve what would take a few years in other parts of the world, and we are sure that his work will score even greater successes in the coming years," he added.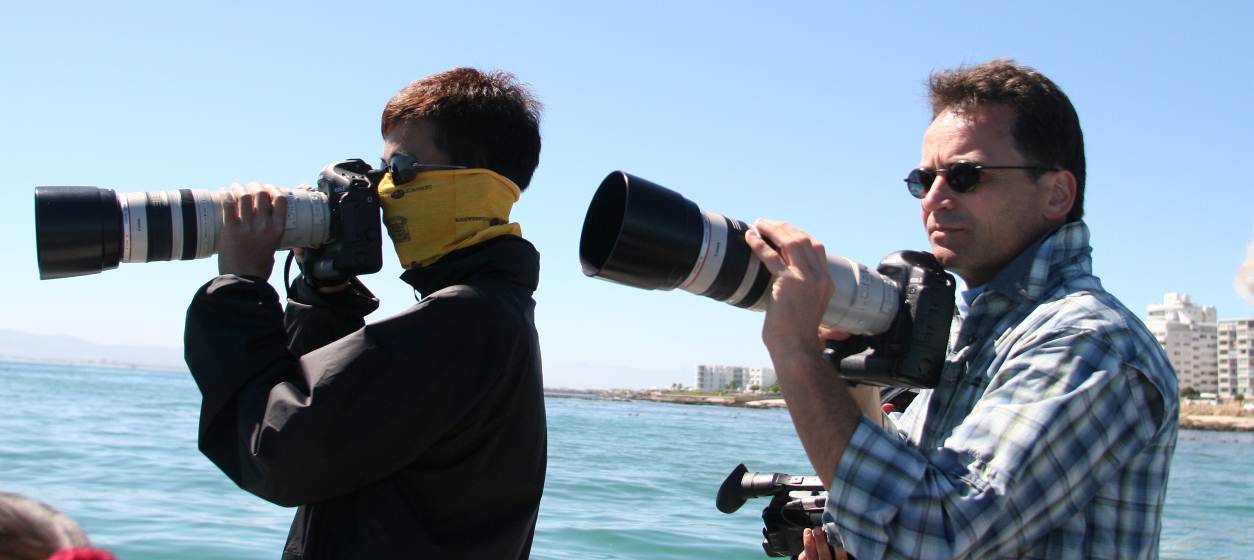 Dr. Leszek Karczmarski, Associate Professor of University of Hong Kong (Right) was doing research with his PhD student.

With the funding support from OPCFHK, Dr. Leszek Karczmarski organised the 6th South-East Asian Training Workshop in Marine Mammal Research Techniques.
– End –