Remote Delivery of Long-acting Broad Spectrum Antibiotics Aids Healing of Chinese White Dolphin Injured by Propeller
Remote Delivery of Long-acting Broad Spectrum Antibiotics Aids
Healing of Chinese White Dolphin Injured by Propeller
Monitoring by OPCFHK Cetacean Stranding Response Team Continues in Lantau Waters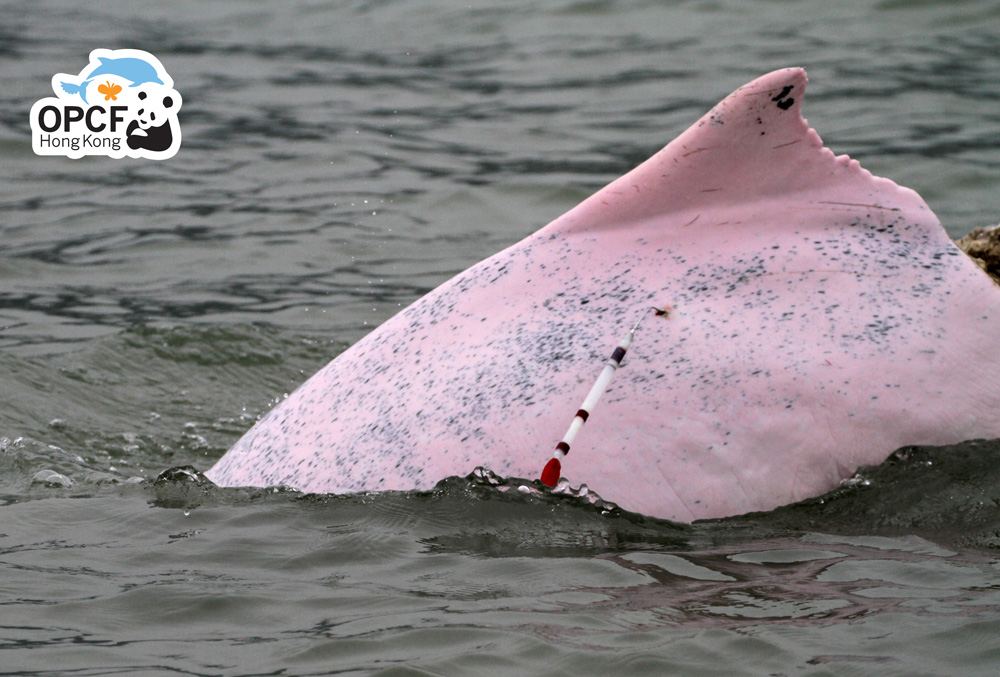 Photo 1: Ocean Park's veterinary team dart-injected the dolphin in Southwest Lantau waters with long-acting antibiotics that lasted for 17 days on August 27, 2018. The operation was endorsed by AFCD and observed by OPCFHK's Response team and the CRI team.
(Hong Kong – September 21, 2018) An adult Chinese white dolphin was reported injured in Lantau waters on August 25, 2018. Since receiving the report from the Agriculture, Fisheries and Conservation Department (AFCD), the Cetacean Stranding Response Team (Response Team) of Ocean Park Conservation Foundation, Hong Kong (OPCFHK), and Ocean Park's veterinary team have been monitoring the injured dolphin closely, as well as keeping close communication with AFCD in a bid to provide appropriate assistance to the animal. Having considered the extent of the dolphin's injury, its overall condition, environmental factors as well as the internationally recognised reference protocol "Marine Mammals Ashore: A Field Guide for Strandings", it was concluded that the animal would benefit greatly from an antibiotic and it was preferable to leave it in its natural environment. With AFCD's consent, the Ocean Park veterinary team dart-injected the dolphin with long-acting broad spectrum antibiotics to assist the animal's immune system in a minimally invasive way.
On August 26, the Response Team of OPCFHK and Cetacea Research Institute (CRI) located and observed the Chinese white dolphin in West Lantau waters. Photos of the dolphin taken by CRI were shared with the Response Team and Ocean Park for evaluation. The dolphin suffered at least three deep transversal wounds on its tail stock, extending from the posterior of its dorsal fin to the tail area. The three roughly parallel V-shaped incised wounds were believed to be caused by vessel collision.
Dr. Leszek Karczmarski, Director of CRI, offered his expert opinion and confirmed that the condition of the injured dolphin was severely compromised and immediate action was needed. Dr. Brian Kot, Visiting Assistant Professor of City University of Hong Kong, commented the wounds might highly associate with internal injuries such vertebral fractures, leading to dislocation and misalignment of vertebral column. He also agreed that any delay in diagnosis and treatment could lead to unstable conditions and complications including paralysis, nerve damage and further injury, which necessitated a high-priority procedure like antibiotic administration.
At around noon on August 27, 2018, Ocean Park's veterinary team dart-injected the dolphin in Southwest Lantau waters with long-acting antibiotics that lasted for 17 days. The operation was endorsed by AFCD and observed by OPCFHK's Response team and the CRI team.
Over the past two weeks, OPCFHK and CRI continued to observe the injured dolphin. The dolphin was sighted at Southwest Lantau waters, often swimming in the Hong Kong-Macao high speed ferry lane and nearby. It was seen milling or travelling most of the time in a relaxed manner, but it clearly displayed boat avoidance behaviours upon approach. The dolphin still possesses moderate swimming and diving ability.
Dr. Paolo Martelli, Ocean Park's Director for Veterinary Services, said, "The initial injuries were deep and extensive, healing in some places but decaying in others with obvious infection of superficial and deep tissues. We judged that this dolphin was still fit for life in its natural habitat. We decided that our intervention could be limited to assisting it with long-acting broad spectrum antibiotics as these can be delivered with minimal impact or risk. 12 days after injection, although still significant, the lesions have greatly improved and all visible tissues are healing and contracting. The wound near the fluke is deep and likely affecting the bone. There is a risk that once the antibiotic drops below effective levels after day 17, infection will set in again and the dolphin will deteriorate. Continued observations and interventions as needed are recommended."
Ms. Suzanne Gendron, Director of Ocean Park Conservation Foundation, Hong Kong, said, "According to international standards, the criteria of determining human intervention on marine mammals include the availability of logistical support, environmental factors, the animal's condition, safety of the rescue team and availability of care facilities and resources for the animal. The dolphin has been swimming in high boat traffic areas off West Lantau. OPCFHK's Response Team and AFCD will continue to monitor the dolphin in the near future should weather permit. In the meantime, boats, ships and fishermen nearby have been urged to pay attention to the injured dolphin. The incident demonstrates that in order to ensure local wildlife in danger could be safeguarded promptly, public awareness, swift professional decisions and support from the government are all needed."
The OPCFHK Cetacean Stranding Response Team, in support of AFCD, has investigated 35 stranding cases this year as of September 10. Stranding of finless porpoises reached a new high of 25 cases while six Chinese white dolphin cases were recorded. Of particular concern is that 18 of the 35 investigated cases showed evidence of boat strikes. In May 2018, the Response Team handled a case of a pregnant finless porpoise whose entire lower body was cut off by boat propellers and could not be retrieved when the Response Team arrived at the scene.
Dr. Simon Wong Wai-ho, Assistant Scientific Manager of OPCFHK, said, "The number of stranding cases in Hong Kong waters is extremely worrying, especially the disproportionately high number of cases that are related to boat strikes. There is an urgent need to eliminate the obvious risk of boat strikes to marine mammals in Hong Kong."
"As 78% of the carcasses found ashore are already badly decomposed, it is not possible to draw easy conclusions on whether trauma is the leading cause of death. Nevertheless, it is worth to note that in recent months, evidences of boat strikes are more frequently seen on the animals' bodies. The threat of boat activities on wild cetaceans in Hong Kong can no longer be ignored. The public should step up its protection of local wildlife. OPCFHK will continue to take the lead in gathering stakeholders in the Pearl River Estuary to look for the best practical solution to prevent Chinese white dolphins and finless porpoises from falling victim to boat strikes." concluded Dr. Wong.
- END -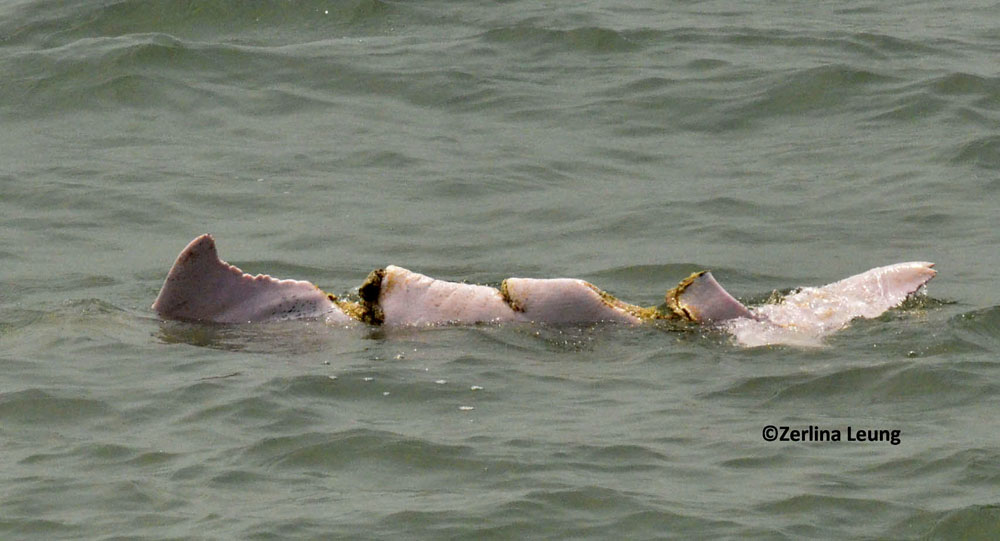 Photo 2: Wounds on the dorsal side can be easily seen. (Photo taken on August 25, 2018)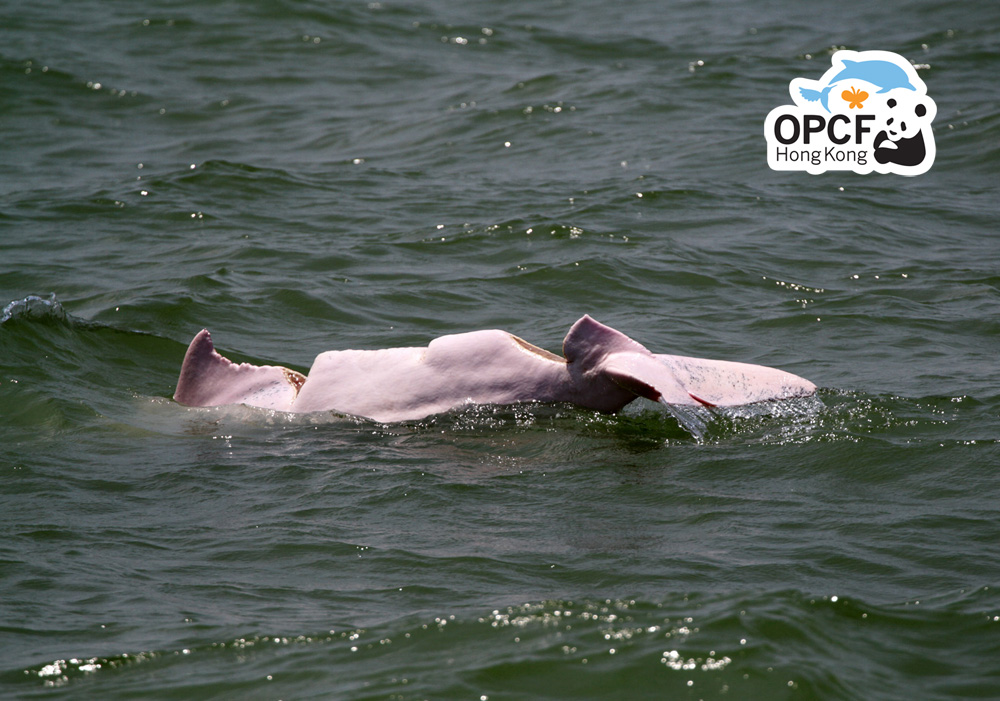 Photo 3: Injured Chinese white dolphin sighted first time after antibiotics injection. (Photo taken on September 6, 2018)