Ocean Park Conservation Foundation, Hong Kong encourages Hong Kongers to protect local wildlife freshwater turtles
The 27th Ocean Park Conservation Day showcases the Beale's-eyed turtle which is less than 100 in number in the wild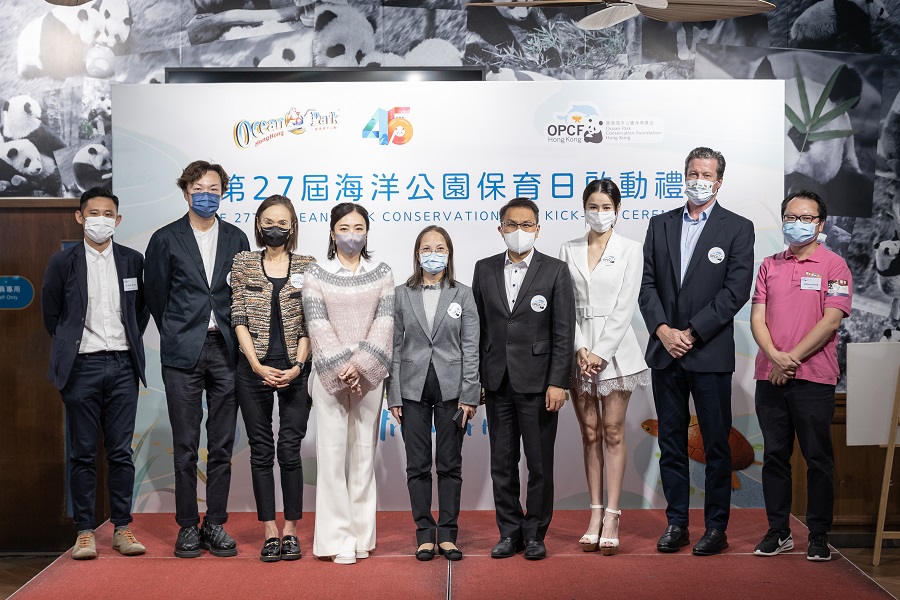 (From the left) Dr Sung Yik-hei, Assistant Professor in the Science Unit of Lingnan University, Mr Francis Cheng, Fundraising Committee Member of OPCFHK, Ms Ysanne Chan, Trustee Member of OPCFHK, Ms Chan Hoi-wan, Conservation Advocate of OPCFHK, Ms Diane Wong Shuk-han, Under Secretary for Environment and Ecology, Mr Ivan Wong Chi-fai, Chief Executive of Ocean Park Corporation and Trustee Member of OPCFHK, Ms Priscilla Wong, Artist, Mr Michael Boos, Foundation Director of OPCFHK, Mr Anthony Yeung, Founder and Chairman of Board of Directors of Hong Kong Society of Herpetology Foundation.
(Hong Kong, 27 October 2022) The Ocean Park Conservation Foundation Hong Kong (OPCFHK) today hosted the kick-off ceremony to the 27th Ocean Park Conservation Day. With this year's theme of "Join hands for the conservation of freshwater turtles", OPCFHK invited the public to protect the local freshwater turtle together. By participating in the Conservation Day at Ocean Park on 5 to 6 November 2022, visitors can learn more about the local freshwater turtles, understanding the threats they have been facing and building awareness to protect the natural environment and maintain local biodiversity. The public can also get a closer look at the Beale's-eyed turtle, which is less than 100 in number in the wild in Hong Kong, at the newly launched freshwater turtle educational exhibition.
"Human activities such as pollution, land development, illegal hunting and trading activities have all contributed to the drastic decline in the number of native freshwater turtles. Local freshwater turtle species have a more critical conservation status than giant pandas as most wild populations have been eliminated by hunting worldwide. Local experts estimate that the current freshwater turtle population in Hong Kong is most likely one of the last population in southern China. Therefore, OPCFHK has been supporting various research projects to protect local freshwater turtles over years. Through the ex-situ conservation programme collaborated with different parties in recent years, we have successfully bred the first Beale's-eyed turtle. We look forward to restoring the population of local freshwater turtles in the wild and hope that this Conservation Day will raise public awareness of the local freshwater turtles and enhance their care and the protection of Hong Kong's natural environment," said Mr Michael Boos,
Foundation Director of OPCFHK.
"The support and collaboration of all parties in our community are indispensable for the continuous conservation of Hong Kong's rich biodiversity. The government has been working closely with OPCFHK for years to enhance the conservation of wildlife in Hong Kong, including jointly conducting the Marine Life Stranding Investigation, Wild Monkeys Contraceptive Programme and Seahorse Surveys. The government has also been committed to combating illegal wildlife hunting and trading with joint enforcement operations by the Agriculture, Fisheries and Conservation Department (AFCD) and the Hong Kong Police Force, to protect wildlife and endangered species in Hong Kong. In addition, the AFCD has identified some natural streams and rivers with rare species as 'Ecologically Important Streams', to preserve their natural condition and ecological value. The government will implement various nature conservation measures in the coming years, and continue the conservation of our natural resources," said Miss Diane Wong Shuk-han, Under Secretary for Environment and Ecology.
During the 27th Ocean Park Conservation Day, OPCFHK will introduce five species of local freshwater turtles, including Reeves' turtle, Chinese three-striped box turtle, Beale's-eyed turtle, Chinese softshelled turtle and big-headed turtle. The new freshwater turtle educational exhibition showcases Beale's-eyed turtles, allowing the public to observe their unique "fake eyes" and behaviors at close range, as well as narration sessions that introduce the threats facing by the freshwater turtles. The freshwater turtles generally inhabit mountain streams and rivers, however, their habitat has been degraded and polluted, and in recent years they have been illegally hunted for sale, causing their numbers to decline rapidly, placing the population at risk of extinction. OPCFHK has been working with Ocean Park and the Hong Kong Society of Herpetology Foundation since 2018, and has been cooperating with Dr Sung Yikhei, Assistant Professor in the Science Unit of Lingnan University and his team to establish a husbandry care and breeding programme for the Beale's-eyed turtle in Ocean Park, with the ultimate goal of developing a reintroduction programme.
"Our team has been searching for freshwater turtles in the wild for many years, but recently we have found that illegal hunting has becoming a serious issue. It is estimated that hundreds of natural streams in Hong Kong have been searched through by unlawful parties, which the illegal hunting incidents were captured by our infrared cameras. We believe that if the situation continues, the local freshwater turtles are likely to face functional extinction. We hope that the government will step up its efforts to combat illegal hunting, and that the public will pay more attention to the conservation of freshwater turtles so that the next generation will still be able to encounter them in the wild," said Dr Sung.
Educational booths and workshops will be arranged for parents and children to learn about conservation work and the importance of protecting the natural environment, which visitors will award special gifts upon finishing. There will also be scientists and conservationists sharing with the public their conservation research and effectiveness on different species, so that the public can understand more about the importance of scientific research, and educate the younger generation to cherish the environment and maintain biodiversity.
Find out more about Ocean Park Conservation Day at https://www.opcf.org.hk/en/communityeducation/conservation-day. Visitors can also join "Conservation Hero Support Programme" and donate to support OPCFHK's Asian Wildlife conservation work.
27th Ocean Park Conservation Day Details
Date: 5 to 6 November 2022 (Saturday and Sunday)
Time: 10:00am – 5:30pm Daily
Venue: Ocean Park, Hong Kong
Event highlights: Freshwater turtles educational exhibition
Sharing from professional scientists and experts
Interactive and educational games
Photos from the 27th Ocean Park Conservation Day Kick-off Ceremony
- End -