OPCFHK Survey Reveals that 90 per cent of Hongkongers Unaware of 'Endangered' Status of A Local Horseshoe Crab Species
OPCFHK Survey Reveals that 90 per cent of Hongkongers
Unaware of 'Endangered' Status of A Local Horseshoe Crab Species
Horseshoe Crabs Take Centre Stage at OPCFHK's 25th Conservation Day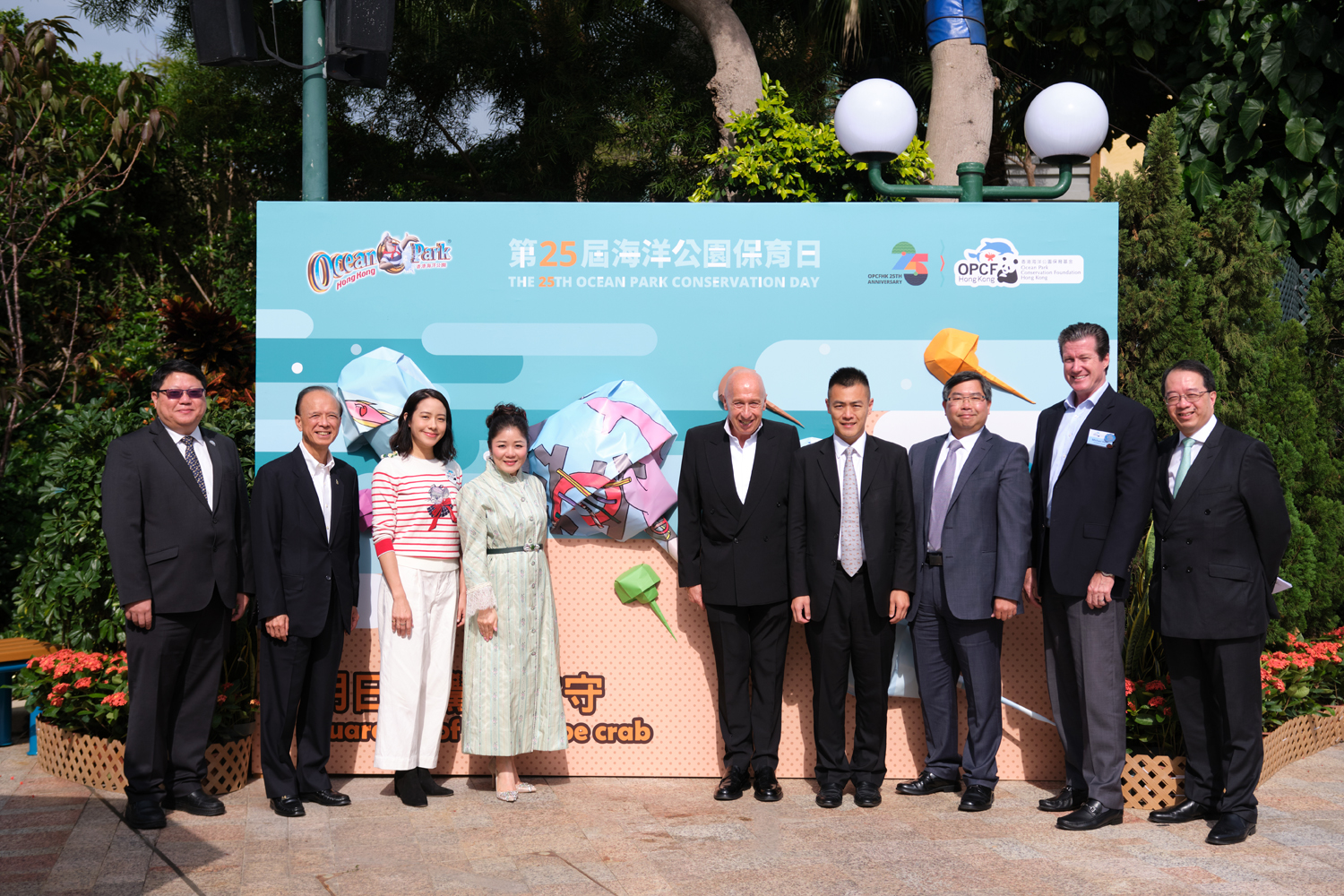 (10 January 2020, Hong Kong) Ocean Park Conservation Foundation, Hong Kong (OPCFHK) today revealed its recent online survey results that almost 90 per cent of Hongkongers are unaware that Chinese horseshoe crabs, a horseshoe crab species found in Hong Kong, have been listed as "Endangered" by the IUCN Red List of Threatened Species since early last year. The survey shows that a further 45 per cent of respondents are completely unaware of the existence of this ancient marine creature in Hong Kong – a keystone animal in local ecosystems which supports the survival of other endangered species, as well as an environmental indicator species that helps signal the environmental challenges faced by local marine lives. OPCFHK will be dedicating its 25th annual Conservation Day to raising public awareness of horseshoe crabs with a slew of pop-up activities. On 11 and 12 January 2020, visitors of Ocean Park will be able to have an up-close and personal opportunity to discover and interact with these living fossils, as well as understand more about them at the limited-time 'Horseshoe Crab Discovery Centre'. Ocean Park will also be donating all admission revenues on 11 January 2020 to OPCFHK, in support of its wildlife conservation work in Hong Kong and across Asia.
In a recent survey conducted among more than 1,000 Hongkongers in November 2019, OPCFHK found that close to 90 per cent of Hongkongers are unaware that Chinese horseshoe crabs have been listed as "Endangered" by the IUCN Red List of Threatened Species. A further 45 per cent of the interviewed public are even not aware that this ancient marine creature lives in Hong Kong's backyard. However, what the public do agree on is that education and promotion is insufficient (64.2 per cent), expressing that the government (62.2 per cent), general public (16.2 per cent) and environmental groups (13.4 per cent) should jointly play a part in leading the protection of the species.
Ms. Judy Chen, Foundation Chair of OPCFHK shared during the 25th Ocean Park Conservation Day Kick-off Ceremony, "While OPCFHK has already stewarded the protection of horseshoe crabs since 2009, including the Juvenile Horseshoe Crab Rearing Programme, an initiative participated by more than 4,000 secondary school students locally, we require a joint effort from Hongkongers too. We hope that by connecting Hongkongers with horseshoe crab rearers and local scientists during the Conservation Day this year, they can come to love this beautiful and important ancient marine creature and understand the conditions that help the species grow and thrive. More importantly, we hope that Hongkongers will feel empowered to take action to protect our local biodiversity, just as we have been committed to achieve for the past 25 years at OPCFHK."
Ms. Jade Lam, Community Education Officer at OPCFHK added, "Horseshoe crabs date back to more than 470 million years ago – long before mankind. Older generations may recall seeing the species in Tung Chung and Tsuen Wan in Hong Kong, or even the open waters of Sai Kung and Lantau. However, we have noticed that the wild population of the species has declined drastically, dropping over 90% between 2000 and 2009. A 2012 study conducted by City University of Hong Kong even indicated that the number of local juvenile horseshoe crabs amounts to less than 10,000. However, we are hopeful that we can turn this around with Hongkonger's support."
2020 marks an important milestone for OPCFHK as it celebrates its 25th anniversary. Mr. Ming-wai LAU, Deputy Chairman of Ocean Park remarked, "We are pleased to have worked closely with OPCFHK for 25 years. Not only growing up side by side, we have also been overcoming difficult times shoulder to shoulder. When OPCFHK was first established, limited resources as well as low public awareness and participation of conservation in the local community made it strenuous for OPCFHK's work to proceed. As the Park gradually develop year after year, we were able to provide more on-going support to OPCFHK to strengthen its conservation efforts. OPCFHK launched a series of campaigns dedicated to inspiring local younger generations to engage in conservation actions and career, including the 'University Student Sponsorship Programme in Wildlife Conservation' launched in 2005 and the 'Juvenile Horseshoe Crab Rearing Programme' launched in 2009. Under the consistent dedication of the Park and OPCFHK, local conservation awareness has increased while more homegrown conservation specialists are successfully trained. These have enabled Hong Kong to become a leading conservation advocate and important hub for cetacean-related research in Asia. We look forward to working with OPCFHK for many more 25 years to come and together enhancing Hong Kong's awareness towards protecting biodiversity and the environment."
| | |
| --- | --- |
| | |
During the weekend of 11-12 January 2020, horseshoe crabs will be taking centre stage at Ocean Park. Visitors can snap selfies with the actual living fossils as well as horseshoe crab-inspired art pieces. They will also be able to learn from their rearers about the exact conditions that help the species grow and thrive. OPCFHK will also transform the Applause Pavilion into a 'Horseshoe Crab Discovery Centre' filled with educational game booths and displays. Themed around four topics, the centre will include a full exhibition about Hong Kong's cultural and historical ties to this unique species, including their relationship with local fishing villages; an introduction to the horseshoe crab where a touch table exhibit will allow guests to learn about the species' anatomy; an introduction to the lifecycle of horseshoe crabs through augmented reality and a large-scale "Game of 'Horseshoe Crab' Life", where live juvenile crabs can also be observed up-close; and learn more about the threats faced by horseshoe crabs in Hong Kong. Visitors will also be able to learn from local scientists throughout the day, as they share their knowledge about these arthropods as well as conservation efforts and climate change in general through storytelling sessions and talks.
Editor's Note
Key partners and sponsors of the Ocean Park Conservation Foundation, Hong Kong in 2020 include Bank of China (Hong Kong), CSI Properties and the Hong Kong and China Gas Company Limited.
- END -