Ocean Park Conservation Foundation, Hong Kong RUN FOR SURVIVAL 2019
2,200 participants became conservation heroes to safeguard the ocean with celebrity team Star Alliance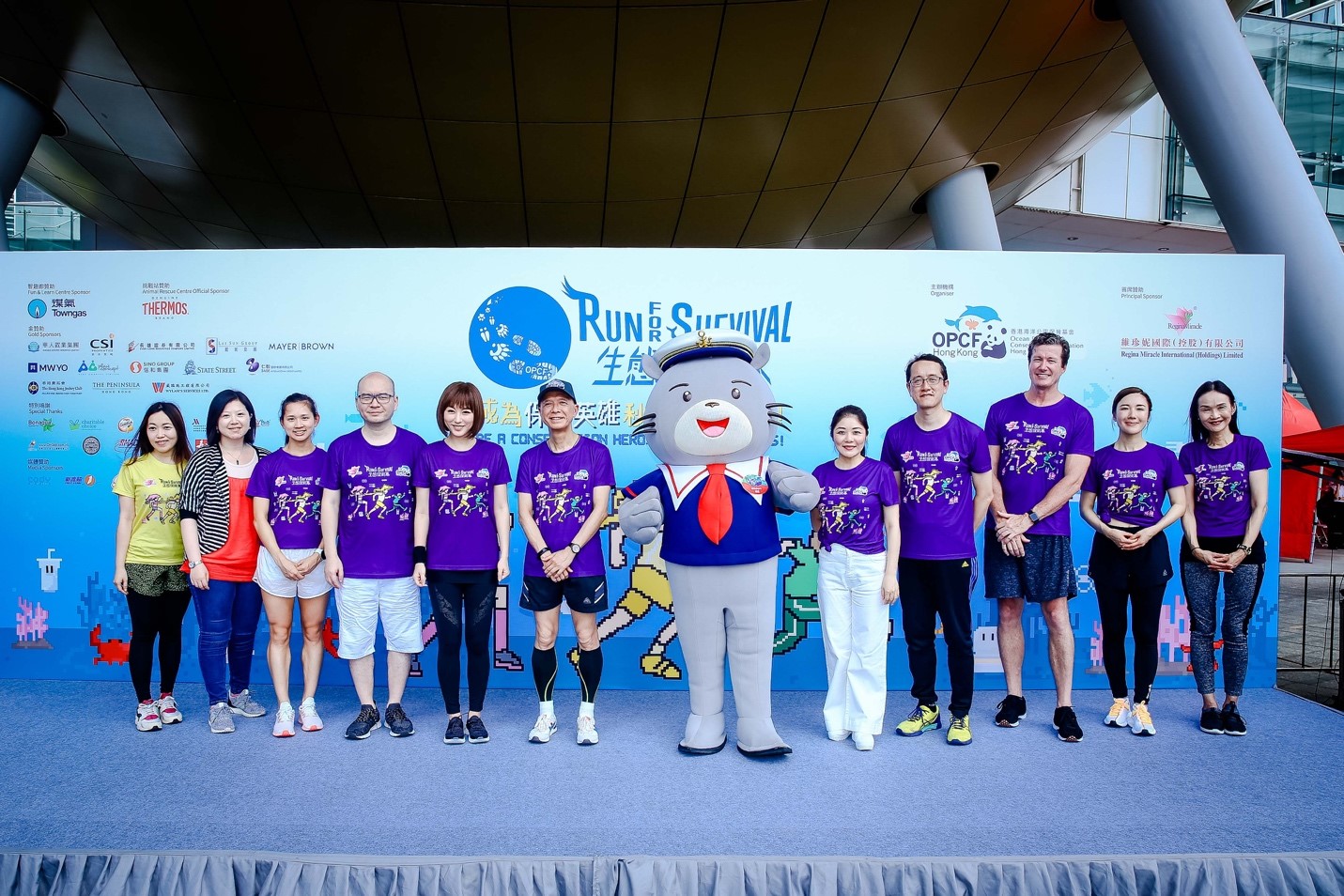 The fifth annual RUN FOR SURVIVAL charity race presented by Ocean Park Conservation Foundation, Hong Kong (OPCFHK) kicked off today at Hong Kong Science Park with a record-breaking 2,200 participants. In support of the race theme "Be a Conservation Hero and K.O. Marine Debris", runners became ocean advocates for marine protection by eliminating dire threats and obstacles resembling marine debris along the race course. All donations raised will go towards funding OPCFHK's Asian wildlife conservation projects.
Before setting off, Ms. Crystal Vut, long-distance runner and Hong Kong marathon representative for the 2018 Indonesia Jakarta Asian Games, and Ms. Lily Lee, professional running coach and TV sports programme presenter, took contestants through a series of workouts to brush up their running skills. Ms. Crystal Vut even teamed up with celebrity Ms. Selena Lee and representatives of OPCFHK to form Star Alliance, and hurdled over obstacles and challenging tasks in the 3km Fun Run.
Today's prize presentation ceremony was officiated by Ms. Judy Chen, Foundation Chair of OPCFHK, Mr. Patrick Lai Chuen-chi, Assistant Director (Country & Marine Parks) of the Agriculture, Fisheries and Conservation Department, Mr. Matthias Li, Trustee Member of OPCFHK & Chief Executive of Ocean Park, Mr. Michael Boos, Foundation Director of OPCFHK, Ms. Annie Liu, actress and Mr. Bull Liu Zhenqiang, Executive Director of Regina Miracle International (Holdings) Limited, the principal sponsor of RUN FOR SURVIVAL for the fourth consecutive year. Aside from presenting awards to the outstanding runners, officiating guests also shared their personal experience and tips on reducing consumption of disposable plastics in daily life, and encouraged the public to pursue green living.
Ms. Judy Chen, Foundation Chair of OPCFHK, said, "Run For Survival" aims to enhance public awareness on the dire threats to wildlife and the marine ecosystem. The new 4 x 2.5km Timed Challenge Relay was added to draw more long-distance runners, corporates, groups and families to take part and play an active role in safeguarding our oceans for the next generation. We are thrilled with our achievements this year and will not rest on our laurels to continue promoting a plastic-free lifestyle through our No Straw Campaign, Ocean Park Conservation Day and education endeavours."
Mr. Patrick Lai Chuen-chi, Assistant Director (Country & Marine Parks) of the Agriculture, Fisheries and Conservation Department, said, "This event can raise public awareness on conservation and disposable plastics consumption." He added that the best way to reduce the amount of plastic waste entering our ocean is to cut it off at the source. He also called for actions to join hands to protect our ocean.
OPCFHK's RUN FOR SURVIVAL charity run is the thematic fun race designed to promote biodiversity and marine conservation, and heighten public awareness on the dire threats on wildlife habitat caused by marine debris. This year's run featured three categories, including the Individual 10km Timed Challenge, 3km Fun Run and the new Mixed-Gender and Mixed-Age 4 x 2.5km Timed Challenge Relay. Runners are tasked to complete a variety of challenging tasks that simulate the struggles of marine life in surviving a habitat full of marine debris at different checkpoints. These tasks include traversing a rope course and sorting garbage based on the correct recycling bins in the Marine Protected Area, walking on a balance beam to find the equilibrium for a healthy ocean and ecosystem, and guarding the life tag by escaping from "Ocean Killers". Moreover, a series of pre-race training sessions led by professional running coaches were held to brush up participants' running skills.
A Fun & Learn Centre was also set up to inspire the public to reduce the devastating impact of plastic waste on the environment and humans. Among the fun games and workshops were rescue missions to "untangle" sea turtles from plastic debris, creative photo opportunities for "Conservation Heroes" to style themselves with up-cycled accessories, and workshops on ways to make eco-friendly clay and natural mosquito brick repellent.