Ocean Park Conservation Foundation, Hong Kong Run For Survival 2022 concluded with remarkable success
Over 1,500 conservation heroes join hands to protect the ocean in the annual charity run event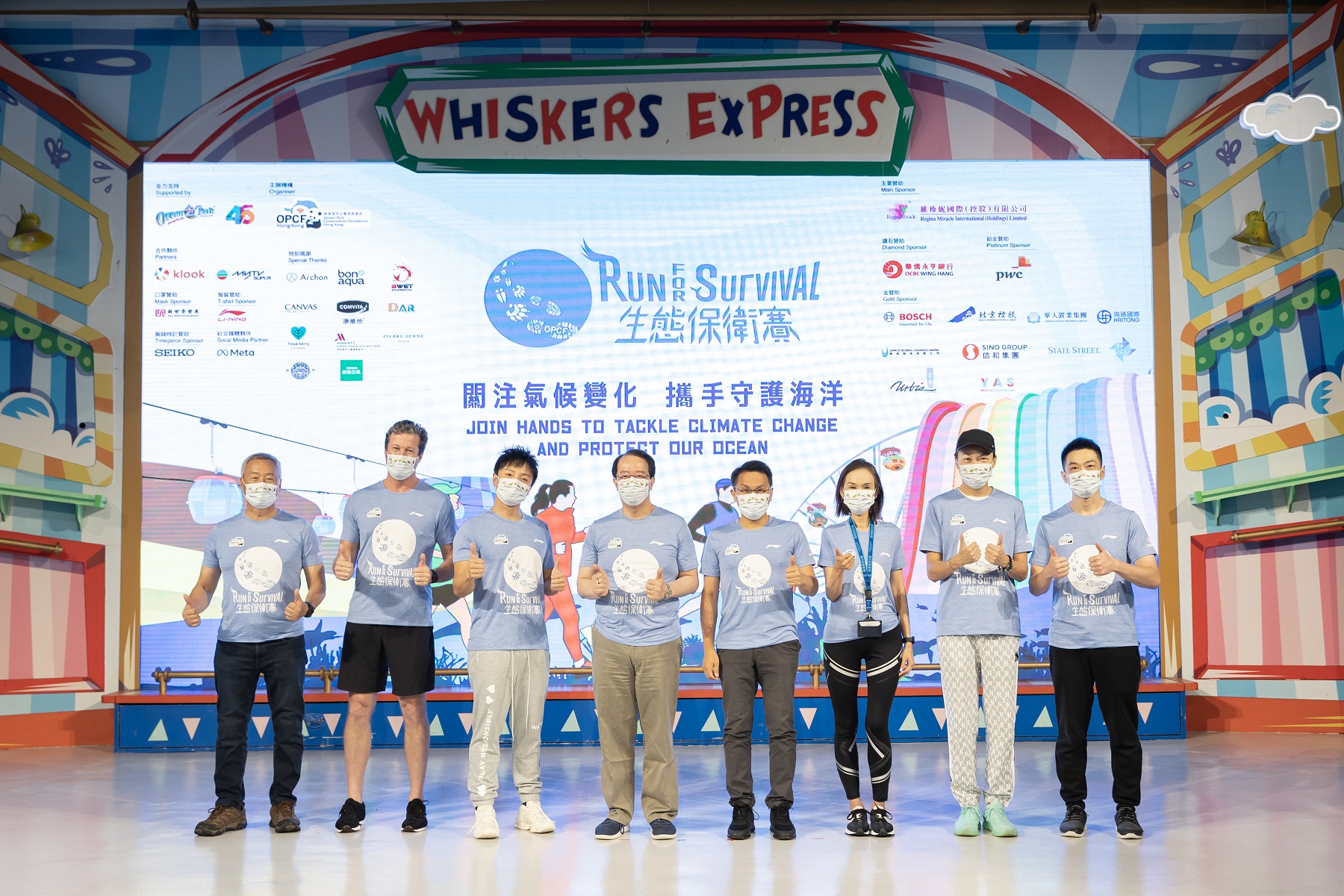 (From the left) Harry Chan, Marine Conservation Ambassador of OPCFHK, Michael Boos, Foundation Director of OPCFHK, Artist Alex Fong, Richard Tsang, Trustee Member and Fundraising Committee Chair of OPCFHK, Ivan Wong, Chief Executive of Ocean Park Corporation and Trustee Member of OPCFHK, Ysanne Chan, Trustee Member of OPCFHK, Francis Cheng, Fundraising Committee Member of OPCFHK, Dr. James Fang, Scientific Committee Member of OPCFHK
(Hong Kong, 6 November 2022) Organised by Ocean Park Foundation, Hong Kong (OPCFHK), the annual charity run event Run For Survival 2022 concluded successfully today, attracting more than 1,500 runners and volunteers to participate in this meaningful event. The event was held at Ocean Park and Water World Ocean Park with the theme Join Hands to Tackle Climate Change and Protect Our Ocean, promoting the need to enhance awareness of climate change and marine conservation, and understanding different threats faced by various marine organisms.
With the generous support of participants, volunteers and sponsors, the funds raised from the charity run will be used to support Asian wildlife conservation efforts. Since its expansion in 2005, OPCFHK has allocated over HK$100 million to fund 550 research projects on cetaceans, giant pandas and many other species.
During the Award Presentation Ceremony, officiating guests Richard Tsang, Fundraising Committee Chair of OPCFHK, together with Trustee Members and Scientific Committee Members of OPCFHK and Artist Alex Fong, promoted the importance of marine conservation, as well as raised the awareness of climate change and encouraged the public to make small changes in daily lives to reduce environmental pollution such that the next generation can still be able to enjoy the beautiful natural environment.
"Climate change is closely related to us. It affects natural habitats and ecosystems, causing extinction for more species every year, and ultimately leading to the loss of biodiversity. In view of this, OPCFHK has allocated over HK$6.4 million to support research projects on climate change including coral reef restoration, conservation of species like wild giant pandas, Mongolian marmot, and freshwater turtles to name but a few. To improve this critical situation, we need to work together and make changes to our daily habits, such as adopting a low-carbon life style to reduce our carbon footprint. We hope the public can have a better understanding of climate change and marine conservation through today's event and join us as conservation heroes to protect the future of our beloved earth," said Richard Tsang, Fundraising Committee Chair of OPCFHK.
As a professional swimming athlete, Alex Fong is deeply connected to the water and the ocean. He has always been concerned about marine conservation. "Climate change affects marine ecosystem, and threatening the survival of marine species. In fact, not only climate change, but also the rubbish produced by human activities, cause pollution and damage to our marine environment. I hope more people can be inspired by today's event and support marine conservation. We can do this by reducing the use of plastic products in our daily lives, including straws, plastic food containers and disposable cutlery. Also, we can support OPCFHK by joining clean-ups to protect our treasurable ocean together," said Alex.
Run For Survival 2022 offers various race categories to suit different age groups and level of experience, including the 5.5km individual Timed Challenge, 4km Fun Run (Individual) and 4km Fun Run (Family). Participants receive medals and numerous gifts upon completion. In addition to the run, the Conservation Carnival was held on the event day to offer activities such as game booths and workshops, learning more about climate change and marine conservation.
Photos from the Run For Survival 2022
- End -