Friends of the Foundation-Nam Sang Wai Bird Watching Eco-tour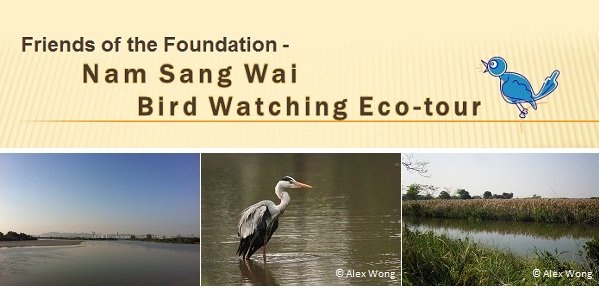 When was the last time you saw a bird? It might be quite hard to tell as we usually hear them - instead of seeing them. In fact there are far more resident and migratory birds in Hong Kong than we can imagine, and each of them has its own feather color, gesture and voice. We can meet these feathered friends from all over the world in different times of the year - such as the Roseate Tern and Cuckoo in summer, and the Black-faced Spoonbill in winter. Come join the "Nam Sang Wai Bird Watching Eco-tour" organized by the Friends of the Foundation and experience the fun of bird watching together!
Through the tour, participants are able to gain a better understanding of various winter migratory birds and water birds which will fly away from Hong Kong soon as spring approaches. Visitors can also enjoy the fascinating views of vast fields, wetlands, mangroves and fishponds offered by Nam Sang Wai. Prepare to be amazed by this exhilarating tour into the "bird paradise"!
For inquiries, please contact Carrie Chan at +852 39232217.
Learn more about 'Friends of the Foundation'
Equipment Support: