RUN FOR OUR MARINE FRIENDS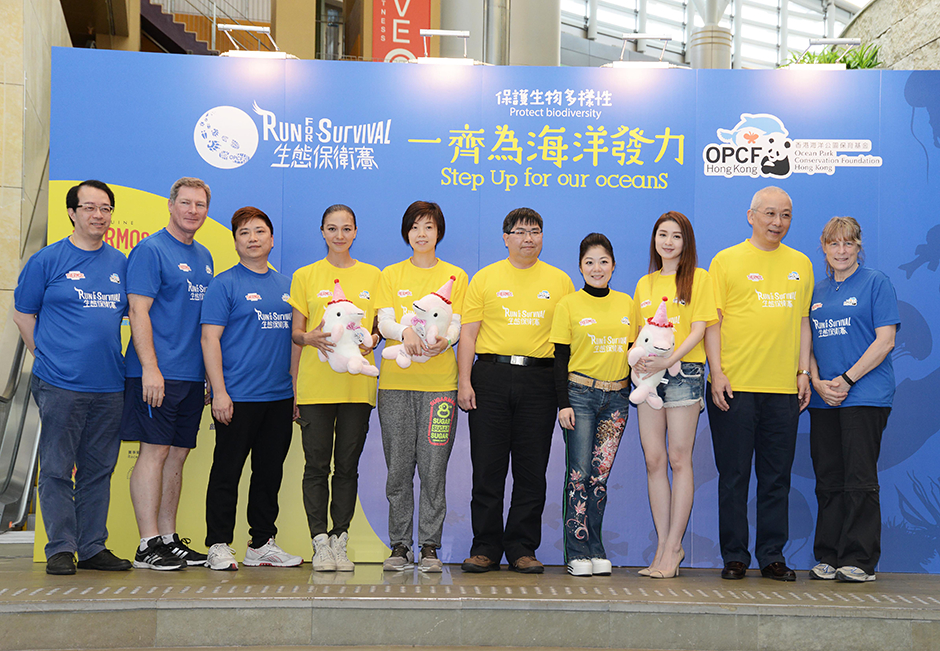 In March 2015, the first-ever charity run "Run For Survival" organised by OPCFHK was hosted in Cyperport with a great success thanks to the devoted support from our title sponsor Thermos, participants and volunteers.
The event was themed around three major marine conservation issues – coastal waste, overfishing and pollution. Participants either enrol as Marine Animals which must run fast to survive the whole race trying to avoid the obstacles on the way, or pride themselves as the Conservationists who pledged themselves as protectors of our marine friends and defend them from marine debris and threats. They would find themselves facing challenges like pollution, fishing nets, and "Ocean Killers", as they raced for the Marine Reserve 6.6 km away.
Awards and prizes were presented to top competitors in appreciation of their support, including "Super-speed Marine Animal" and "Super-speed Conservationist", "Top Fundraisers" and "Best Dressed".
Invited to present awards and celebrate this creative initiative were Ms Zhang Yining, award‐winning Chinese table tennis player; Ms Judy Chen, Chair of OPCFHK; Ms Suki Chui; Ms Cara G.; Dr Leung Siu‐fai, Deputy Director of the Agriculture, Fisheries and Conservation Department; and Mr Leo Kung, Chairman of Ocean Park cum OPCFHK Trustee.
Recaps of the run
| | |
| --- | --- |
| | |
| Ocean Killers (in black) tried to block and snatch life flags from Marine Animals (in blue) but in this race our ocean friends were definitely having so much fun! | Only Conservationists (in yellow) could repel attacks and protect marine creatures. |
| | |
| --- | --- |
| | |
| Participants of the Time Challenge Group ran fast to spread conservation messages. | Animal Rescue Centre distributed fun and meaningful conservation information through a simple quiz during the race. Joining hand in hand in conservation has never been so fun. |
| | |
| --- | --- |
| | |
| Marine Animals proudly held these cheering foam boards after completing the race. | Families spending time together with our mini games prepared at the centre. |
| | |
| --- | --- |
| | |
| Run hard, play hard. Dad demonstrated to their kids what it takes to take a step in conservation. He would be the Conservation Hero in his children's heart. | This race was a huge success not only because we had dedicated participants, but thanks to all our volunteers and staffs who are conservation enthusiast. See you next year! |