26th Ocean Park Conservation Day
Conserve the six endangered species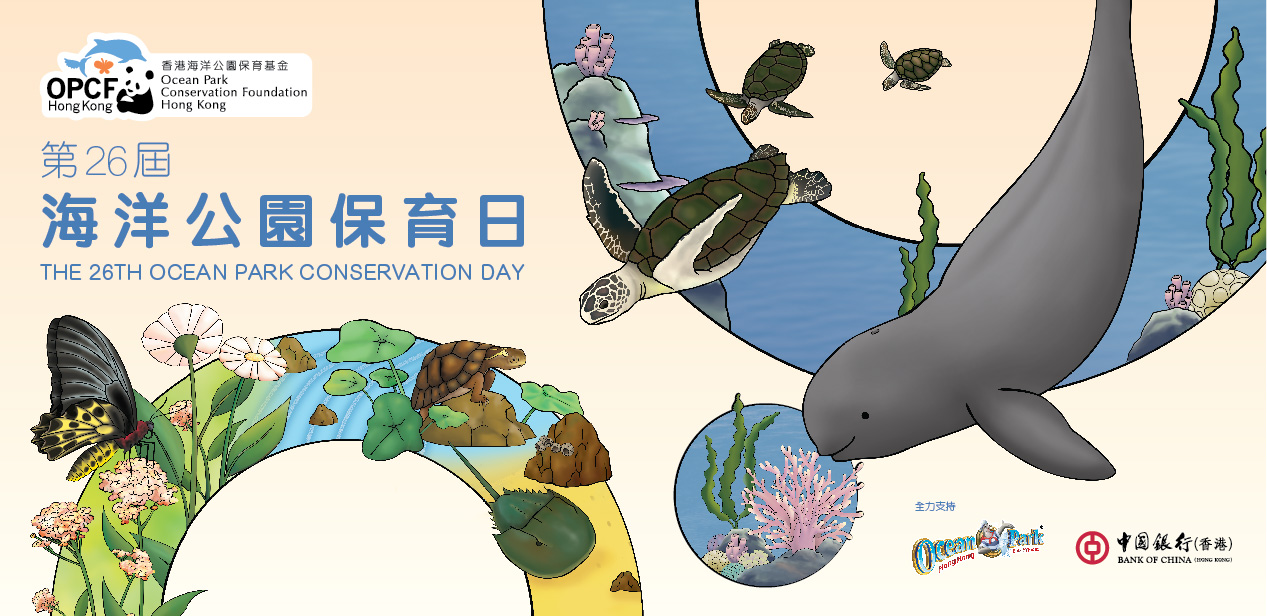 Organised by Ocean Park Conservation Foundation, Hong Kong, the 26th Ocean Park Conservation Day (Conservation Day) is an annual signature event will be held on May 29-30 2021, The Conservation Day aims to enrich the public's understanding of Hong Kong's rich biodiversity, in addition to promote the human connection to nature and conservation awareness. Through the fun-yet-educational games, exhibition, fun facts and specimen of six selected endangered species known to reside or breed in Hong Kong, visitors will understand about their roles in ecosystem and their threats. Moreover, scientists will talk about their efforts on in-situ and ex-situ research for these species, so as to pursue support in conservation and education of biodiversity.
This year, upon completion of in-park special tasks, participants will have the chance to redeem a tote bag made of recycled plastic bottles with endangered animals printing! Let's practice a "plastic-free" living together!
SAFE FROM EXTINCTION
The Government has formulated the first city-level Biodiversity Strategy and Action Plan (BSAP) for Hong Kong, to step up biodiversity conservation and support sustainable development in the next five years. In view of that, in the coming 2-day Conservation Day event, six signature local species, namely Green turtle, Acropora corals, Golden birdwing, Indo-Pacific finless porpoise, Chinese horseshoe crab and Beal's eyed turtle. Of all the species displayed in the exhibition are known under threat of extinction set off the alarm call to institute a more stringent protections are required.
Indo-Pacific finless porpoise

Listed as a vulnerable species, it is estimated that a mere 200 finless porpoises remain in Hong Kong and adjacent waters. Finless porpoises face a number of threats, such as fishing net entanglement, habitat loss and disturbance, marine traffic and pollution.

Beal's eyed turtle

Ocean Park Conservation Foundation, Hong Kong (OPCFHK) has funded a research project to strengthen trade enforcements for local species, to enhance enforcement against the illegal trade of wild turtles.

Green Turtle

Green turtles often mistake plastic bags for jellyfish, which can lead to death. To protect green turtles and other marine life, starting from today, join our No Straw Campaign and aim for a plastic-free lifestyle.

Golden Birdwing

The eye-catching appearance has made the golden birdwing vulnerable to poaching. Therefore, the golden birdwing and other common birdwings are protected by an international treaty and Hong Kong law. The capturing, trading, importing, and exporting of specimens are prohibited.。

Chinese horseshoe crab

To conserve local horseshoe crabs, OPCFHK is committed to publicizing horseshoe crab conservation messages to the public. This has been achieved through scientific education initiatives such as the Juvenile Horseshoe Crab School Rearing Programme, population survey, cleaning mudflats, and the restoration of horseshoe crab habitats.。

Acropora corals

The rapid decline of corals is mainly derived from human activities. It is understood that climate change, ocean acidification, and chemical pollution all contribute to coral degradation. Another major threat comes in the form of an often-neglected pollutant – chemical sunscreen, in particular, that can harm corals. To conserve our beautiful corals and help them regain their wonderful colours, let's choose to cover up our body with sun-protective clothing next time we visit the beach.